Klakki
In a Gown of Water (í kjól úr vatni) (1999)
Lemon River (2001)
both titles Tutl Records, Faroe Islands
"On my way to civilization
the trees gave me advice
they asked me not to go there
to become a screaming laughter
in the face of the world
to become a light constantly blinking
on its switchboard"
- from the song - "Advice"
The Copenhagen based Klakki are fronted by Icelandic singer Nina Björk Elíasson, with a backing band of acoustic guitar, percussion, double-bass and organ and vibraphone. On In A Gown of Water they have set poems by a number of Icelandic writers to music in a way that gives each poem a different character while still remaining united as a song cycle.
Although the restrained but bountiful beauty of the music is enough to win over anyone, a lot more remains hidden to those outside of the original language; the translation only hints at the musicality and wordplay so masterfully expressed by Elíasson's wistful voice. The translations are enough to suggest the polychromy within the soul behind a vast natural monotony of white snow and gray sea. This music seems to express an explosion, a collage of colors, sounds, instruments, words and feelings in a springtime of one's self.

This is an exacting record that refuses to dissolve into the background; it demands full attention and returns great rewards. This is an unlikely and successful avant garde musical experiment; it oozes maturity. This record combines elements from Björk's "Gling Gló," free jazz, vaudeville and opera, something that must have been rock or pop in a previous life, the main theme from Dr. Zhivago, mutant spy movie thumping bass, Sixties avant-garde, a touch of Wild West twang coupled with the vocal half of a Christmas carol, organ music, an impromptu children's marching band, an acoustic rendition of heavy machinery and galloping horses, French chanson (or is it really Judy Garland?). Franz Schubert and Gustav Mahler's 'Song Cycles' all come into this weird but wonderful mix and yet they are usually expressed within pop music's requisite three-to-four minute format. The deep melancholy and profound beauty of "Two Hearts" is quite unparalleled. Soothing as a lullaby, evocative as a femme fatale monologue, theatrical as an Ute Lemper number, playful as a Björk song, this is a piece of music that is painfully beautiful to listen to. You are attracted to it, again and again, unable to keep away from its pull. This is music of such strong character that you almost feel that you didn't so much chose to listen to it as that you were chosen. It is music that even after years of listening would not feel completely tamed, labeled or done with. Or is it those lyrics?

"The sunshine uproarious
The moonshine rhymeless
The alphanome full
The metrobet ornate
The womanshine bright
Yes uproarious rhymeless
Shinelover I am"
- from the song "Paris"

Klakki followed In a Gown of Water with Lemon River, a record of original compositions inspired by ancient Chinese poems, sung entirely in English. The multitude of musical styles harnessed to express the spirit of the word is once again expansive, although rather more limited than in their previous work.

In many ways this is a looser work, more relaxed, without the poignancy evident in their previous album. This is still a highly enjoyable and stimulating work. In fact, it can be argued that it is actually more easy-going than their previous one, and thus, in a way, maybe a better introduction, especially for fans of country, rock or other similar popular idioms who might find the avant-garde and operatic fragments of In A Gown of Water too demanding.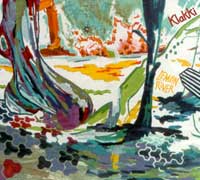 Every creative work has a point where its power and soul shimmers through, rising to the surface from the depths of its hidden perplexity. On Lemon River it comes exactly two minutes and 54 seconds into "Tiny Woman," when the 1916 Caecilia harmonium played by Nína Björk Elíasson arrives in what appears to be a track from Philip Glass' 'Dracula' soundtrack. It is pure bliss: the simple music gathers the power and pathos of a complete orchestra and sounds not apparent on the record sprint forth from the imagination, trying to fill this wonderful void; the elaborate, heartfelt vocal in the middle of "Since You've Gone," the harmonium-accompanied beauty and open-eyed surprise of "The One and Only," the slightly laid-back rock spirit and rhythm of "Two Rainbows."
One important problem is the lack of printed lyrics. Given that these are songs based on ancient Chinese poems translated into English, a language that is not the singer's native tongue, it can be difficult to understand the text in spite of Elíasson's wonderful vocal delivery. The situation is exaggerated due to the high quality of the lyrics. Compared to the polished booklet accompanying their previous CD, this omission is doubly frustrating.
In the time I have spent in the company of these records I found myself returning more often to In a Gown of Water as the more demanding and challenging piece of work. Lemon River still has a lot to offer and the two works are very interesting when heard in comparison. More than a fall from form, Yellow River sounds like an interlude, an easy afternoon off, while Klakki ponder some new powerful exotic concoction to deliver to our hungry ears sometime in the future. - Nondas Kitsos
Both CDs available from cdRoots
Recordings ©2001 Tutl, used by permission