Ferenc Kiss
Nagyvárosi bujdosók (Outlaws of the City)
Etnofon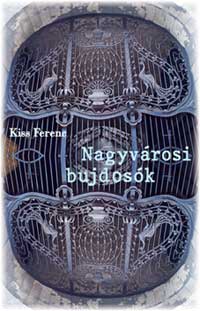 Nagyvárosi bujdosók is a meticulously produced project, and comes packaged with a 38 page book, complete with photos, essays and poems. With the exception of an introductory page, it's all in Hungarian. However, while there is no doubt that an understanding of the lyrical content of this unusual CD would further enrich its impact, the abstract musical qualities can be reviewed on their own terms.
A finely wrought iron gate is reproduced on the cover in a mirror image of itself. On the back cover, the title, which translates to "Outlaws of the City" describes the project as "obscure organic music," and "spiritual product of Hungary." It's an accurate, yet inadequate description.
Open the iron gates, and wander into the heart and formidable mind of Ferenc Kiss. All of the music is based on Hungarian folk forms, and utilizes voices and acoustic folk instruments with a smattering of brass and electric bass. Kiss has created something rare and wonderful--a melding of modern sensibilities with folk music that is intriguing and original. He has carefully and precisely recorded all the woody, windy tones and timbres, and thoughtfully set them as passages or as layerings of texture. Stately melodies wind in leisurely fashion through shifting chord progressions. Rhythmically, those tracks that can be categorized as dance tunes have quirky Central European or Balkan matrixes--there are no references to Western Afrocentric grooves. And yet certain pop bands or artists are called to mind--like Roxie Music or the Beatles. The music is darkly personal; Kiss' singing exhibits the same eccentricity one associates with Donald Fagen or Van Dyke Parks, albeit with less nasality than the former, or the preciousness of the latter. There is also no escaping the influence of Bartók and in places, Kurt Weil.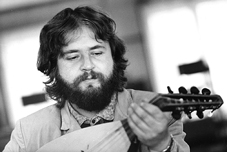 "The Wanderer's Song from Brassau to Bruxelles" is possibly the "hit" of the CD, and one could easily imagine it being sung by any one of the top alternative bands these days, even though it's a ballad. "The March of the Lumps" has a beat as joyful as a hand jive, while "Knife and Grave Tango" conjures up a bygone Budapest, one that combines the cosmopolitan cabarets of the Hapsburg era with the overriding spirit of the Magyar. "Radnóti's Diary" starts out with village fiddling, and then ventures into a demonic maelstrom, where, as Mr, Kiss mentions in his introduction, "Lucifer is there all the time." "Curse of the Outlaw" contains a relentlessly mechanized, nightmarish brass arrangement that conjures up urban crush. "Prayer for the Hungarian Prisoners of War" and "Song of Life and Death" are tracks built on the simplest of melodies, but whose developing chord voicings become more and more addictive with each passing measure.
Mr. Kiss does explain who the Outlaws of the City are. They are the many artists, poets and musicians who have inspired and nurtured him in his own work, all of them urban dwellers. This CD combines both heritage and contemporary identity into an emotional, yet intellectually bracing creation, one that has obviously been a long time in the forming. A work with this much weight will be hard to top, but if Mr. Kiss continues to allow his soul to be fed by his fellow musicians and artists, he will have a deep well of musical sustenance from which to draw. - Michal Shapiro
Available from cdRoots
(there are some short MP3 exceprts to listen to there)