Rabih Abou-Khalil
Yara
Enja Records (www.enjarecords.com)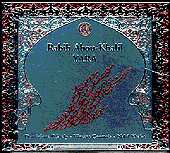 Rabih Abou-Khalil is a Lebanese musician and composer who was raised in Beirut during the '60s and '70s, and left Lebanon due to civil war in 1978. He underwent musical training on the oud, and went on to study classical flute in Munich. Abou-Khalil has performed throughout the world and integrated international cultures into his musical consciousness.
On Yara, which was composed as a soundtrack to the film of the same name, Abou-Khalil plays with a quartet: Abou-Kahlil/oud, Dominic Pifarely/violin, Vincent Courtois/cello, and Nabil Khaiat/percussion. The liner notes describe the associative quality of the disc, and indeed the music is highly evocative. It takes the listener on a journey through thought and feeling. Themes repeat, gain tension and ebb, but have no distinct endings. Overall the modes are distinctly Arabic, due to the percussion and oud melodies, yet the movements of the composition retain a Western form. The songs also sound like Sufi music at times, due to the frame drumming rhythms.
The recording is all digital and very well engineered, and the package is beautiful. The case is a black digi-pak with religious-style silver and gold Arabic artwork in raised foil, and the liner notes are comprehensive and intellectual, in English, French, and German. - Rob Seiden