Alan & John Kelly
Fourmilehouse
Blackbox Music, Ireland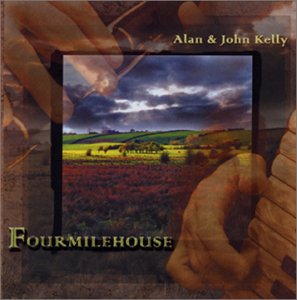 This is no-frills seisun music, if you are luckly enough to have nothing but crackerjack musicians coming to your seisun. The Kelly brothers of Roscommon (Alan on piano accordion and John on flute and whistle) have a sound that is the instrumental version of sibling vocal harmony - tight, telepathic, and homespun. Both brothers know all of the ins and outs of their instruments and are fleet of finger and breath. In fact, on some of the faster reels, the notes flow so freely and ceaselessly that the listener wonders when John manages to take a breath. The tunes are a smooth mix of traditional and original reels, jigs, and airs. It's a mostly acoustic venture, with friends helping out on guitars, bodhrán, banjo, piano, bouzouki, and Hammond organ.
The backup musicians stay way in the background, providing subtle support that rarely ever indulges in the rock and jazz rhythms so prevalent on many Celtic recordings these days. On the last track ("Sonny Brogan's/Easter Sunday/The Glentaun"), however, the 'lite jazz' guitar intro is out of place with everything that has preceded it and leaves a bad taste. I also have a quibble with the gratuitous "O Brother, Where Art Thou" bandwagon jumping in Earle Hitchner's liner notes. But these are minor cracks in an otherwise rock-solid release. - Peggy Latkovich
Listen to "Caucus Reel / Lady on the Island / McGettricks"
CD available from cdroots.com
Alan Kellys' web site is www.blackboxmusic.ie