James Keelaghan
Home
Appleseed Records (www.appleseedrec.com)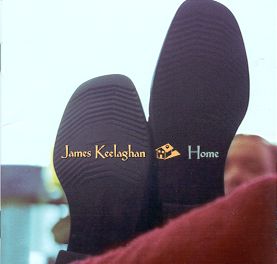 After 15 years of constant touring and 6 album's worth of material, Canadian singer/songwriter James Keelaghan has finally arrived Home. This collection of 10 songs touches on all of the elements that make Keelaghan such an outstanding interpreter of songs, his own and others.
Keelaghan's warm baritone speaks through all of the characters in these songs: a British convict in the 1920's ("Henry's Down Fall"), a young paperboy in rural Canada struck by the headlines he delivers ("October 70"), or stone masons working on Canada's Parliament building ("Stonecutter"). There is a country boy's charm to his music, evidenced by "Sinatra and I," his ode to a trusty dog, and there is a social bite to his sarcasm in "Nothing," his scathing summary of broadcast news.
There's an epic sweep to these songs. They all build carefully through his intelligent lyrics and the support of fellow Canadians Oliver Schroer (fiddle and guitar), and Hugh McMillan, of Spirit of the West (pedal steel). They add color and texture to the words without getting in the way.
A serious history buff, Keelaghan makes it a point to use his music as a true storyteller would, to entertain and to enlighten listeners about our place in history. Life's questions always loom large in his songs; love, nature and our relationships to each other as friends, lovers, family and citizens.
The song here that makes best use of all of Keelaghan's talents is "Woodsmoke & Oranges," a beautiful ode filled with imagery of wide open lands and man's epic struggle for survival in a harsh environment which he both loves and fears.
"In the land of the silver birch, the cry of the loon,
there's something about this country that's a part of me and you"
- David Smith
Available from Amazon