Kardeş Türküler in concert
Istanbul Harbiye Cemil Topuzlu Open Air Theatre, 2000 and 2001
DVD Kalan, Turkey (www.kalan.com)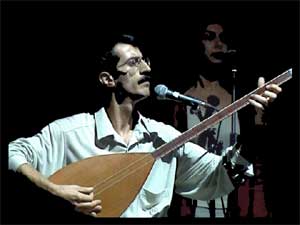 The Kardes Türküler project was born in 1993 at the Bogazici (Bosphorous) University Performing Arts and Folk Societies. Its Turkish name is usually translated as Brotherhood Songs, but interestingy enough the word "kardes" is non gender-specific and in fact the "sisters" are rather prominent in the group. Highly controversial from the start because of their inclusion of Laz, Azeri, Kurdish and Armenian songs in their programs, always trying to stress the multicultural nature of Anatolian music, they were attacked also by "folk purist" circles because of their rearrangements of traditional songs with use of electric instrumentation and electronic montage techniques in production. Their popularity in Turkey is huge, and their concerts in Istanbul are usually sold-out events, with a very young audience ready to break out in song and dance - forming long chains of people, hand in hand, managing to perform a lively dance with complex steps while basically standing in place. Their participation in the successful "Vizontele" movie further broadened their appeal, and the self-censure of the radio and TV channels in Turkey refusing to broadcast some of their songs added to their political relevance, while their Cds on Kalan - especially "Dogu" and "Hemavaz" - are among the best of the modern folk music.
Visuals always play a major part in their approach: first of all, it's a huge group of about 20 people, with a large percussion section, traditional instruments standing side by side with western violin and electric bass, while several musicians take turns with vocals. Then they often cooperate with the dancers' club of the same university, who perform original choreographies based on traditional steps and costumes. The Performing Arts Society is still active and keeps providing a pool of new resources for Kardes Türküler, who operate as a collective and not as a fixed group - in fact, finding information about the single performers isn't easy.
For all these reasons Kardes Türküler were a prime candidate for a video production, and kudos again to Kalan for producing this first Turkish music DVD. While I was in Turkey in June 2004, according to the stipulation of EU integration process, the State TV began broadcasting a Kurdish program of news and culture, and one clip from Kardes Türküler was in the first program: surely one of the few available, the very same autorithy which refused to play the songs now using this independent production to demonstrate Turkey's adherence to European statutes. So strange are the way of politics.
With 12 songs recorded live, two of them with choreography, and three videoclips, two of them including scenes from the "Vizontele" movies, the DVD gives a good idea of a spectacular Kardes Türküler concert, a mixture of rigorous recreation and modern interpretation. There's also a TV program, recorded live in the auditorium of Bilgi University in Istanbul, featuring extremely interesting and well balanced thoughts on the subjects of how to perform folk music, and the vexed question of politics and music. The program is subtitled in English and features live performances as well as unique video materials, like extracts of a concert by the famous ancient walls of Diyarbakir. I could do without some of the obvious transition effects, some of these things that everybody seems to use because they are available in their software, but sometimes the alternation of long and close shots is very effective in capturing the intense concentration, the energy and the joy of these songs. Particularly memorable is the percussion player Diler Özer, a diminutive girl who proves herself a true powerhouse on stage, leading the whole section alternating on a variety of frame drums, darbuka, snares and toms (she's a sharp, no-nonsense spokesperson for the group in the TV interview); the powerful zurna player, cheered by the crowd; and the vocals by the two main singers, Vedat Yildirim, and one female voice, both percussion players as well, whose renditions of traditional songs in several languages are supported by intricate, exciting rhythmic and vocal polyphonies.
This DVD won't give you the same unforgettable experience of being there - in the Open Air Theatre, with Istanbul's night in the background, dizzy from the beauty of the evening, the buzz of the great town and the emotive participation of thousands of people - but will give you another reason to visit and sample directly the rich world of today's Turkish music, giving the persistent difficulty to find Kalan's vast catalogue outside of Turkey. - Francesco Martinelli
DVD is available from cdRoots