Shweta Jhaveri
Anahita
Intuition/Alula (listen.to/intuition/)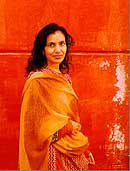 Patient listeners with a taste for the unusual will enjoy Anahita, a perplexing and lovely collaboration between Hindustani classical vocalist Shweta Javeri and four American instrumentalists. Jhaveri's songs are based on North Indian Drut Khayal rag forms, and the brief yet adequate notes credit the inspirational rags for five of the six songs. Her voice, unlike many in Hindu and other classical traditions, possesses considerable personal character, swooping into and out of notes, but hitting them precisely when desired, indulging a playfulness available only to the adept.
"Invocation" begins with a tamboura drone laying the base for Jhaveri's soaring trills, followed by a faintly gipsy framing figure on violin and bass. Jenny Scheinman's sinuous violin mimics Jhaveri's vocal acrobatics, while jazzy drums and Will Bernard's unobtrusive electric guitar, bell-like with occasional dreamy wah-wah effects, maintain a quiet yet expectant mood. A spritely violin figure also frames "To a Beloved," gently rolling drum and bass joined by Jhaveri's supple and insinuating vocal, almost careless in a suspiciously perfect fashion, Bernard's guitar weaving quietly in and out, volume dynamic on single sustained notes and chiming harmonics. This track also features a long, dramatic violin solo, as well as a restrained guitar solo, inventive melody and quarter-tones masterfully employing the range of the instrument's sounds. "Amidst a Mist" is slow and mildly dissonant, a disturbing dream. "To the Spring" is the liveliest track, a familiar structure, perhaps a false cognate, with a simple, strong chorus carried in unison by Jhaveri and violin, in praise of the returning season with happy dobro in background.
Anahita takes real chances in its mixing of styles and traditions, but success is implicit in the natural sound of the exotic beauty produced. - Jim Foley