Jasraj
Darbar
Sense (www.senseworldmusic.com)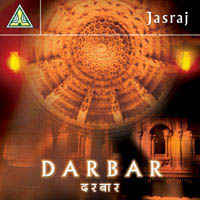 Pandit Jasraj (perhaps together with Bhimsen Joshi) holds the title of most beloved living singer in Hindustani music for his singing of bhajans, the devotional songs that play an important role in Indian daily life. His singing style belongs to the Mewati gharana, where the bhava (exposition of the sentiment or mood of the raga) and the meaning of the texts are very important, so the bhajans constitute a significant part of their repertoire.
Jasraj displays all his sense of sentiment in presenting "Raga Darbari," a favorite piece that the Maestro has recorded several times. This CD presents a 2003 recording done at the Saptak Festival in Ahmedabad (Gujarat, India). The recording quality is superb, as is the performance itself.
An evening raga, "Darbari" is one of the most ancient and classic works of Hindustani music. It is a majestic and solemn raga, favored among singers. With his low and powerful voice, Jasraj was able to render this complex raga by Amir Khan in his own unique way.
After a medium-short alap (solo voice introduction), Jasraj sings the first theme: "Hari Virahi Ka Ko Maan," in vilambit ektaal (12 beats, slow tempo). The exposition starts in a very slow tempo and the speed increases little by little. The typical features of the raga are wonderfully revealed by Jasraj, accompanied by two other voices (Shuman Gosh and Niraj Parikh), harmonium (Mehmood Dhaulpuri) and tabla (Nandan Mehta). When the tempo gets faster, a second theme, "Asi Darbari Gunijan Gave," begins and a pakhawaj (barrel drum) player, Ghemant Mehta, joins the group. It is an unusual combination for khayal style, but is often used in recital by Jasraj. The two percussionist give the sound a more resonant vibration, the rhythm is very evident, the tempo is faster, the voice becomes more prominent. The tempo gets faster and faster without ever becoming chaotic, until the happy ending when everything comes back home.
The CD is completed by a rendition of a very rare raga, "Bhinnashadja," with the exposition of the main theme and a short improvisation alternating between Jasraj's lead voice and the response by backing voices, half way between classical raga and bhajan style. - Renzo Pognant