Randy Armstrong
Dinner On The Diner
Ellipsis Arts
Various Artists
People On The Highway: A Bert Jansch Enconium
Market Square Records
Though it appears the provence of adolescents these days, I'd no more get on a plane flight without careful attention to the music that I carry than I would without a passport. Same with the books I carry. It seems normal and usual to me, but it's rare to see many in the over-25 crowd giving nearly the attention to their sound recordings that they do their laptops. The smells and sounds of travel are key elements of adventure for me, so I'll give a fair nod for the effort to combine the package. Disparate though they may be, Dinner on the Diner and People on the Highway are each double-CD collections with travel themes.
Dinner on the Diner was released last year to accompany a PBS television production of the same title. Fine dining for sure, the idea was to let four renowned television chefs host travel and dining adventures to four different parts of the world. These are fantastic travel selections and any of us would leap quickly to join such adventure. Imagine the journeys on board vintage steam locomotives on the Al Andalus Expreso on a circular tour of southern Spain, taking the Union Limited out of Capetown to tour South Africa, leaving Edinburgh's Waverly Station aboard the Royal Scotsman or the view up the Malay peninsula from Singapore to Bangkok on the Eastern and Oriental Express. Sure you'd go; so would I.
The Dinner on the Diner soundtrack, however, makes no sense. It's well crafted music, recorded by composer/musician Randy Armstrong, based upon his impressions of the video journey. But what this soundtrack has to do with the lush travel concept espoused in this production is beyond me. How do you get your music fix when you're on a road trip? I sample my companions' tapes and explore the hell out of every local musical opportunity I find. Let's say you fronted the money for camera crews, travel, famous personalities, had a TV gig lined up, and needed a soundtrack. Wouldn't you take full advantage of the local sounds that surround your senses every mile of your journey? When sound recordings take even better pictures than cameras, would you feature anything other than the discoveries of the adventure itself? I wouldn't. And I don't think you would either. I've frequently raved about the concept albums of Ellipsis Arts and I'm certain I will again. It's an extraordinary label that this once missed its mark.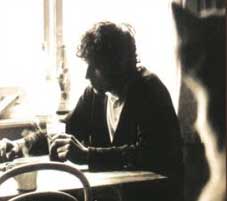 On his laudatory compendium People on the Highway, Bert Jansch is far more successful showcasing another type of travel music, music by travelers. Music of place has a rich role in popular and traditional music and conveys areas one has yet to experience. We've probably all learned as much geography from music as from any other source, whether it's "Road to Lisdoonvarna," "The Concert for Bangladesh," "Arkansas Traveller," or "Streets of Baltimore." Road metaphors are especially rich and are frequently home to virtually every working musician. The result is a vast catalog of experience and expression. In a curious twist, the travel in this collection is a feature of the people rather than the roads and places themselves. Jansch's People on the Highway offers its share of well-seasoned road warriors, but there's an unexpected freshness to stalwarts that include Al Stewart, Donovan and Ralph McTell. Check out Rod Clements ("Rambling's Going to Be the Death of Me"); Kelly Joe Phelps ("Blackwater Side"), Steve Benbow ("Love is Teasing"), or John Callis ("1965"). Others include Maggie Boyle ("Bird Song"), Bernard Butler ("When I Get Home"), Steve Tilston ("Moonshine"), Martin Jenkins ("Sweet Mother Earth"), or Johnny "Guitar" Hodge ("Step Back"). Of the 26 tracks, they won't all win you over, but you're guaranteed to be turning your ear often enough that some discoveries are in store. - Richard Dorsett
At Amazon:
People on the Highway
Dinner on the Diner