Hijas del Sol
Kchaba
NubeNegra (www.nubenegra.com)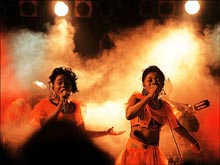 Even the New Critics among us must take some account of the express aspirations of artists when describing, and evaluating, their work. The liner notes of this third recording by Equatorial Guinea's Hijas del Sol, the vocal duo of Piruchi Apo and Paloma Loribo, promise a change. In tribute to the late Fela Kuti, this album will be much more "electric" than its predecessors, incorporating the jazz, funk, rock, and highlife which influenced Fela, as well as the afro-pop he pioneered.

Good news: Hijas del Sol's bright, charming vocals and their strong melodic and lyrical style succeed in bending the dense production of Kchaba to their service, rather than vice-versa, successfully incorporating all promised influences, hinting at surprising global confluences.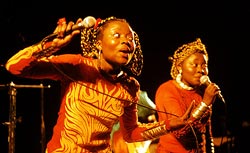 "Hue" begins with staccato guitars suggesting marimbas as well as foreshadowing Hijas vocals, frequently performed in unison, then splitting off into tight harmonies and fugue-like duets, open tones suggesting an innocence immediately belied by careful control. Paloma and Piruchi also mix native Fang dialect with Spanish, as in "El Viajero," deliberate folk-rock with smooth guitars and purring organ. It could well be the theme for an animÚ series, a bright pop sensibility also found in Basque and Brazilian music, the mix enlivened with slide and highlife guitars and sampled brass. "M-30" is the most successful track, a slow a cappella intro leading to an upbeat calypso about a car crash, synth somewhere between marimba and steel pan, the beat switching in the middle to an eccentric, staggering 6/8, underlying a clever, realistic lyrical call to celebrate and dance to survival, and then hurry home to see our wreck on TV! "Grito Libre" is the most direct Fela tribute, spirited rave music with a galloping beat, funky with deep organ, wah-wah guitar, and brass, while "╦ Ria ╦ Nta" returns to sparse production, nearly a cappella, a third vocal track adding surprising harmonic sophistication.
Hijas del Sol pose themselves, as well as fans of their first two records, a challenge with Kchaba, and it is a challenge met and mastered. - Jim Foley