Dick Gaughan
Redwood Cathedral
Appleseed Recordings (FOLKRADICL@aol.com)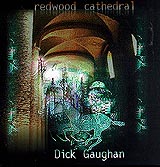 Dick Gaughan shares his love of fine craftsmanship in this new acoustic CD. Choosing ten well-made songs by other writers, and adding two of his own, Gaughan savors the beauty of each, and invites listeners to join in his pleasure. His rich baritone and intricate guitar work open up these compositions and re-create them. There are surprises to be found in every performance here.
Redwood Cathedral is a meditation on endurance, the passage of time, and love. Songs included by Si Kahn, Pete Seeger, Robin Williamson, Lal Waterson, Brian McNeill, Townes Van Zandt and others all evoke the mystery of that which survives all strife and difficulty. Gaughan's own songs look back with restrained anger at the recently ousted Tories and forward in joy to a time of inevitable, hard-won social justice.
My own favorites in this collection are Williamson's haunting "October Song", and McNeill's "Ewan and the Gold," one of the most clear-eyed evocations of "Scottishness" ever written. But every song here is a treasure in itself. - Bill Nevins
Read an interview with Dick Gaughan