Various Artists
The Acoustic Folk Box
Topic Records / 4 CD set (www.topicrecords.co.uk)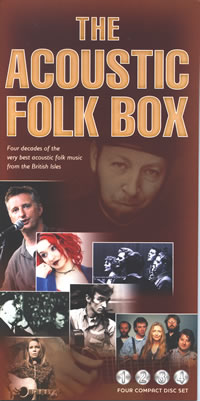 The Acoustic Folk Box takes on the weighty task of exploring the acoustic development of the folk revival across the British Isles, as opposed to the already heavily documented electric folk scene (as on the "New Electric Muse" I and II, or Rhino Records' "Troubadours of British Folk"). Compiler David Suff clearly had some difficult choices to make in surveying the wealth of available material, but the Acoustic Box is organized in the most logical manner possible: from the 1960s to the 1990s, one decade per disc, with at least twenty selections per CD. A fascinating trip this is, too: it is a long way from skiffle to Shooglenifty's crafty Scots dance music (albeit augmented by electronica).
What enfolds over the four CDs are several stories along the pathway of the Acoustic Muse. One story is the radical readings of the trad. arr songbook (such as Shirley Collins and Davey Graham's "Reynardine;" Martin Carthy's "Sovay," or Pentangle's "Let No Man Steal Your Thyme"). Also present are the English dance masters (i.e., Oak, New Victory Band). Yet another thread is the guitar god: Renbourn, Jansch, Thompson, Jones. The acapella singers and soloists are in evidence, with Anne Briggs, The Young Tradition, June Tabor, and Coope, Boyes & Simpson getting their due. And the rise of the singer- songwriters is well documented, indicating the restless talent that consistently pushed the acoustic folk revival forward. How wonderful it is to hear Pete Morton's sterling "Another Train," Rory McLeod's "Farewell Welfare," and Richard Thompson's moving "Beeswing" in this context! Inevitably, however, listening to a box set of such varied talent leads one to ask: Who stands out? What surprise tracks have been unearthed? For one, the Incredible String Band still sounds twee and weird, especially following A.L. Lloyd and Martin Carthy. Robin and Barry Dransfield's harmonies on "The Rout of the Blues" sound superb, begging the question as to when (if ever) their entire catalogue will see the light of day. Nic Jones sounds positively arresting on "Billy Don't You Weep for Me," an updating from an 18th century broadside -- his guitar playing and commanding voice reveal him as a true master of the art. June Tabor's solo "Lay This Body Down" is bone-chilling: such sorrow is conveyed in the deep timbre of her voice! Chris Wood's treatment of Don Was' "Out Come the Freaks" is oddly affecting, a naked testament to voice and fiddle redefining quirky contemporary material.
One could quibble with artists included or absent from the Acoustic Folk Box. English folk musicians dominate here, and despite the inclusion of the esteemed Bothy Band, Altan, and Dervish, one can't help but feel that Ireland deserves a separate box set treatment (the same goes for Scotland). The great Fernhill represent Wales, but that is about it; no Sian James, no Rag Foundation.
Nonetheless, The Acoustic Folk Box proves that the acoustic muse continues to grow and nourish itself from a rich lineage. With Kate Rusby and Eliza Carthy rounding out the set, it is apparent that there is no shortage of outstanding talent who are willing to experiment and put their own stamp on classic material. Topic's box set succeeds admirably in exploding the myth that there is one 'soul' to the British Isles, but rather many expressions of soulfulness over the years. As an introduction to essential folk recordings, it would be difficult to do better than the Acoustic Folk Box. -- Lee Blackstone
Available from cdRoots