Peter Finger
Open Strings
Tim Sparks
One String Leads to Another
Both titles: Acoustic Music Records
There's nothing like a solo acoustic guitar; the sound may be full, and still seem lonely. Moods roll off the strumming hands, and it brings out a player's personality. Peter Finger likes it active: his notes are wiry, and gather en masse. He drifts lazy onto "101 South," then heads for Brazil; the bass string walks while others are tapped. This is a samba, yet it is intense. Speedy lines snake everywhere, loud strums break through. There are bluesy bits and manic plucks.
"Another Day in May" is a melancholy waltz, stated with icy clarity and pervasive stillness. "Black Sea" has a ramshackle gait, the theme vaguely Russian and hammered with slashing bass. Some showy miniatures pass by, then "Aquarell" charms with liquid simplicity that borders on the classical.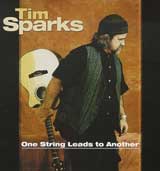 Finger was the producer on Tim Spark's One String Leads to Another, a gentler and slightly less satisfying album. Sparks has a lighter touch. His notes don't ring as Finger's do. His tunes stress a down-home quality, sometimes verging on ragtime. There is some twang in places, but mostly he glides. "Soledad" has a Spanish tone and a mournful heart. Sad chords line up, the bass string hits bottom; it is a tome of strained dignity. It is similar, but cooler, on "Elegy for Max." The high notes skip like a stone on a pond. Where Finger was a crowd by himself, Sparks plays with the silence, making it as musical as the sound.
He offers a different taste on "Eu So Quero Em Xodo," the only ensemble track on either disc. As Dean Magraw bubbles the rhythm, Sparks bends notes like a sitar, then glistens with chords. The strings snap a percussive part and both axes merge for a colorful blend. He returns to solitude for "Trap Hill," a solo that feels like a duet. In a waterfall of sound, the song has Finger's intensity and Sparks' quietude. Both Open Strings and One String Leads to Another are fine efforts. One will romance you, the other will stun you. - John Barrett
Comment on this music or the web site.
Write a Letter to the Editor