Various Artists
Under the Moroccan Sky, Fes Festival of World Sacred Music Vol. III
Sounds True (www.soundstrue.com)

Under the Moroccan Sky is the third release on Sounds True with music from the Fes Festival of World Sacred Music (the other two being B'Ismillah (1997) and Hamdullilah (1998)). This festival has taken place annually since 1994 in the glorious city of Fes and has concerts from various religious musical traditions with an emphasis on the three biblical religions and particularly Muslim traditions. In this release, nine tracks offering selections of music from Morocco, France, India, and elsewhere are included on one CD.
It begins with a song by Senegalese singer Musa Dieng Kala, a beautiful track that seems most appropriate to open the CD. Beginning the song with his declarative vocals full of devotion, it seems almost an invitation to the listener to enter the world of profound and intense emotions found in sacred music. His short a cappella introduction is quickly joined by the xalam (harp), percussion and an accompanying voice that reinforces the phrase endings. His voice trails off as a flute enters and continues the song. After an extended solo, Musa Dieng Kala halts the song with more declarative phrases before the piece starts up again, this time with all the instruments joining his voice for a fuller texture to the end.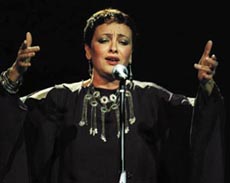 The third piece, by Algerian Houria Aichi, begins very quietly with strings. Her hushed voice enters over the strings, stating the languid theme in this monothematic song. Her voice gains strength in the second repetition of this theme. There is a brief pause before the beginning of the third repetition in which the song shifts into meter. The percussion enters and a chorus repeats the theme to the accompaniment of their handclaps. From this point on the tempo increases steadily and the percussion becomes richer and more complex until the song's furious ending. A very simple song, yet highly addictive and perhaps my favourite of the album. Another highlight is by the Avay-e-Doust Ensemble. The Persian song recorded here is well known to me from several albums by the great Shahram Nazeri. However, as with those albums, the title is not given! Sung here by Soroush Izadi, it is a metered song with instrumental accompaniment by setar and driven by the powerful daf.

The final track on the disc promises so much, being from one of the greatest voices in the Arab world, Sheikh Yassin Al-Tuhami. However it also results in my one complaint with this release. Sheikh Yassin Al-Tuhami's folk Egyptian Sufi Madih tradition specializes in larger forms. The 11-minute track offered on Under the Moroccan Sky is actually the explosive conclusion to an over 70-minute piece. As seen in the only other recording of Yassin Al-Tuhami available in the West, "The Magic of the Sufi Inshad" (1999 Long Distance), a similar metered song is the long-anticipated conclusion to a lengthy improvised and unmetered piece. It is unfortunate that Sounds True did not make Under the Moroccan Sky a double-CD release like the previous two Fes Festival compilations, with the complete piece being the second CD. The excerpt does not give the absolution and release it represents without the incredible build-up preceding it. Still, it remains a nice conclusion to a respectable compilation. - David Dalle

Audio: "El Hachemi" (trad) performed by Houria Aichi
(p)(c)2001 Sounds True