Fermin Muguruza
Brigadistak Sound System
Piranha 2001 (www.piranha.de)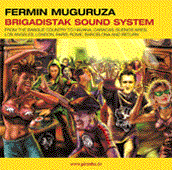 This is a "yes, but ..." review. Yes, the reggae-suffused music on this recording by Negu Gorriak stalwart Fermin Muguruza is varied, tight, and irresistibly energetic, but the lyrics are pure culture-of-rage, at once furiously resentful and callowly sentimental. But even this reservation is qualified: the lyrics are in Euskara, the language of the Basque of northern Spain, and thus opaque to most not following along with the Spanish, French, and English translations, a virtual Rosetta stone furnished in the booklet. Brigadistak Sound System is an expansive, heavily produced enterprise, crammed with musical allusions and guest artists from the global resistance music community, so it is not surprising that it avoids tedium. Its enjoyable coherence is less expected.
Festivities begin with "Urrun," a brisk, swaggering reggae with a bright, tight brass section and subtle yet attention-grabbing percussive and dub touches. Muguruza's flat, nasal voice is supported by Picchio and Castro X's enthusiastic backing vocals. The opening fuzz-tune freak-out on "Hitza Har Dezagun" resolves into a swaying ska with a staccato refrain evocative of the ubiquitous media hype the lyrics attempt to lampoon. The center features a refreshing salsa break dominated by Jose Romero's trombone and Jose Rodriguez' trumpet, capped by a few minutes of dub meandering which magically never lose musical relevance. The driving rock-steady beat of "Newroz" waxes ominous with growling trumpets and trombones, a smooth guest rap by Fishbone's Angelo Moore contrasting with the abrasive rawness of the brass.
"Puzka's" caffeinated double-time percussive shuffle underlies a calm reggae beat, Muguruza's vocal excelling in this welcoming niche. Xabi Pery's programming courts threatening encroachments from burgeoning percussion and a tide of sampled voices, but coaxes it all into an exciting thematic whole. On the light and perky "Oasiko Erregina," Muguruza's persistent reggae guitar coexists nicely with the jazzy swing of Los Van Van, which dominates the central break of this tale of desert survival with Patti Smith, queen of the oasis; Amparo Sanchez' vocal adds a pleasing touch. Toots Hibbert's classic "54-46" is covered lovingly but playfully, Argentina's Todos Tus Muertos contributing varied voices.
Not every track on Brigadistak Sound System succeeds; some are noisy and irritating, and the translated lyrics should be avoided by those not already convinced that the world is an irredeemably corrupt cesspool of oppression. But the recording's instrumentation, production, and above all energy make it well worth a listen, especially for reggae fans. - Jim Foley
Available at cdRoots