Fania
Sopi
Tinder (www.tinderrecords.com)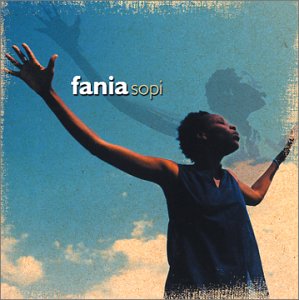 I find it nearly impossible to avoid citing Zap Mama and Angelique Kidjo in describing Sopi, the debut recording by Senegalese vocalist Fania, if only to point out the limited similarity it has to the works of these other Afropean artists. Sopi declines to go for the jugular, relying instead on subtle instrumentation and production, and an eclectic yet thematically coherent assortment of songs. Naturally, the focus is on Fania's vocals. Deep and smoky, her voice is never husky, belted, or forced, conveying an otherwordliness more often associated with sopranos, as if addressed to a realm just beyond our ken. Instrumentation is mostly acoustic, with rich yet unobtrusive percussion, and I found many of primary guitarist Fadiala Diawara's figures reminiscent of the American folk-rock of the Sixties.
"Diaraby" starts with a spacey rhythmic throb and a male voice describing the only footwear suitable for adults: eagles' wings. Fadiala Diawara's kora-like acoustic guitar and a gentle wah-wah effect lead a swaying, dignified beat, Fania's deep vocal taking its time with a simple, passionate melody. Actual kora joins acoustic guitar on the slowly swaying march "Te," Fania demonstrating both tonal and emotive range, low and plaintive on verse, high and exultant on chorus. "Yagou" is one of the recording's surprises, happy, gently eccentric reggae, acoustic guitar strum and playful percussion, Horace Andy's breathy, warbling English vocals almost indistinguishable in timbre from Fania's. The title track features a minor key flat-picked acoustic guitar and surprising accordion underlying a melody perfectly designed for Fania's warmly distant, ethereal vocal.
"Sawawani," with its spacey, loping finger-picked acoustic guitar and whispered vocals, is nearly off-putting in its haunting beauty. Against the calm, swaying beat of "Soa," soaring wails by guest singer Fanta "Disco" fugue with Fania's more direct and powerful notes, dramatically distinct vocal styles in provocative balance, imaginable as separate levels of a single conversation. On the dramatic "Yow," a complex polyrhythmic background of percussion and bass, like a moody Cuban rumba, suggest gurgling, flowing water, on which Fania floats a simple, deliberate melody as snatches of electric piano drift by. With its quick techno-percussive base, dense vocal chorus with male rap, smiling commentary from Fania, and glistening kora, "Yiri" is an unexpected and successful Euro-ization of Senegalese roots.
"Sopi" may not grab you immediately, but its beauty and sophistication justify enough listening to get you hooked. - Jim Foley
At Amazon.com