Tim Eriksen
Appleseed Recordings (www.appleseedrec.com)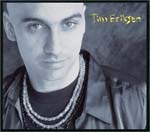 It is Martin Carthy that immediately comes to mind as you listen to Tim Eriksen's self-titled, solo recording (Appleseed Recordings). Like Carthy before him, Eriksen has occillated between the young rock and pop musician with strong folk music interests and the singer of traditional songs in a more traditional manner. The raw punkish music of some incarnations of Cordelia's Dad and the short lived Io were always (subtly, at least), in debt to earlier American music, and Cordelia's Dad fluctuated regularly into the realm of a more pure acoustic folk music. Eriksen is also deeply involved in Appalachian songs and New England shape note singing, and has a significant background in formal folk-musicology. He is an urban folk singer in the same traditional as the various Seegers or Tracy Schwartz, one that led from educational experience to personal passion to a unique viewpoint. So the progression naturally led to this release.
And once you get past the personal history, there really is not a lot you can say about this recording. Tim Eriksen has taken 14 folk songs (mostly traditional or nearly-traditional, some original or quasi-original) and after learning them carefully from whatever source material he had, has made them, for the most part, his own. And as a musicologist he has some great sources, including unreleased tapes of Frank Proffitt ("Brown Girl"), Roscoe Holcomb's version of "Village Churchyard" (by way of an obscure recording by John Cohen), and a number of heretofore unknown religious hymns from New England. He merges his own music with timeless words in "I Wish The Wars Were All Over," a short, chilling ballad that could have come straight off a Martin Carthy recording, his guitar lines and vocal delivery intact. Eriksen delivers some interesting instrumentals as well, including a polka/hornpipe medley on a finger-picked guitar and a stripped down banjo tune called "Last Chance." All of the songs are delivered unaccompanied, or with just a single instrument (fiddle, guitar, banjo), recorded solo, live, with no overdubs and no guest artists.
Eriksen took a fair chance with this recording, and ran the risk of coming off imitative, as a simple revivalist or as just a plain old, stuffy musicologist "saving the tunes for posterity." It's therefore a more than simple pleasure to get to the end of the recording and report that it rarely happens that way. He does occasionally offer the astute listener opportunities to make comparisons or accusations, but as a performer for many years in many genres, he has acquired the difficult skills of taking a song and making it personal, of taking an understanding of the complexities of "authentic" technique and delivery and producing a recording of personal passion. Contrary to popular conceit, American folk music is neither dead nor just resting. It's in plain sight, if you are looking in the right direction. - Cliff Furnald