Documenting the American Landscape
Frank Dalton listens to some historical gems from Document's series, Complete Recorded Works In Chronological Order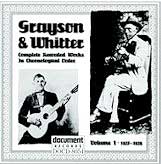 Document Records of Austria is well known to aficionados of pre-war country blues music. Founder Johnny Parth has reissued close to the entire canon of commercially recorded African-American folk music, work songs, blues, gospel, etc., on more than 800 CDs. This is a mighty accomplishment.
Now he has turned his attention to early white country music, and more than 50 CDs have been released to date. With the help of collectors and discographers worldwide, Parth continues to preserve and disseminate what he considers to be "the two major American Folk Music forms". Complete Recorded Works In Chronological Order is a two volume set of rare recordings made for the Gennett and Victor companies between 1927 and 1929 by G.B. Grayson and Henry Whitter. Grayson was a legendary blind fiddler from the northeastern tip of Tennessee, whose music continues to influence the repertoires of old-time and bluegrass fiddle players to this day. Whitter, a native of Virginia, had a recording career of his own as a vocalist and guitar and harmonica player. It was he who encouraged his friend G.B. Grayson to record.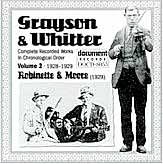 The selections themselves cover a wide musical area, from old ballads (Handsome Molly, Ommie Wise) to original compositions by Grayson (Joking Henry) to fiddle breakdowns (Old Jimmy Sutton, Shout Lula, Sally Gooden).
"Going Down The Lee Highway," better known in bluegrass circles as Lee Highway Blues, was reputedly composed in Whitter's car, on the way to a recording session. Other tunes have become standards too, like "Nine Pound Hammer," "Train 45," and "Short Life Of Trouble," which have been recorded numerous times by the likes of J.E. Mainer, Dr. Ralph Stanley, and other old-time and bluegrass luminaries.
Grayson, one of those old-time fiddlers who had mastered the art of singing and fiddling simultaneously, played with a wonderfully full, deceptively simple sound. Whitter, more of a showman than a stellar musician, provided unobtrusive back-up to Grayson's fiddling and plaintive vocals, and the occasional spoken interjection ("Take warning girls; Never marry a drunkard!"). His choice of chords is often open to debate, but his playing is as much a part of the Grayson and Whitter sound as is his friend's fiddling.
The two CDs include a total of 36 cuts by Grayson and Whitter, in addition to 7 tracks by a second fiddle/guitar duo, Melvin Robinette and Byrd Moore, of Wise County, Virginia, who recorded eight sides together for Gennett in 1929 - good stuff, too.
Roy Harvey is the unassuming guitarist on many of the biggest 1920s hits of Charlie Poole and the North Carolina Ramblers. In addition to being a fine musician and singer, he was a hustler who combined a vast knowledge of Tin Pan Alley songs with his experience selling sheet music to fashion his own successful recording career. With various fine musicians (fiddlers Posey Rorer and Jess Johnston, hot guitarist Leonard Copeland, yodeler Earl Shirkey, et al) he recorded extensively from 1926 to 1931.
This four volume set may be more than the casual listener will require, but it contains much charming music. Harvey was an old West Virginia railroad man and there are a good seven or eight songs from that time honored genre, as well as a number of sentimental 'mother and home' type numbers. But my favorites are his reworking of some of the original Charlie Poole material, like "Sweet Sunny South," "Bill Mason," "There'll Come A Time," and "Budded Roses." The instrumental guitar duets with fellow West Virginian Leonard Copeland are also very tasty. Here are early examples of country guitar picking going up-town, with Harvey flat-picking the bass runs while Copeland handles the really fancy finger work.
For a smaller dose of Roy Harvey's picking and singing the reader is directed to Early String Band Favorites (Old Homestead), which contains 24 of his finest efforts. If you're an absolute completist, spring for the whole shebang and get the Document set.
As a 78 collecting colleague of mine once said, you can almost hear Earl Johnson sweat on some of his more unrestrained outings! The wildman of Georgia fiddle players, he put down over forty masterful sides for Okeh and Victor between 1927 and 1931, all of which are reissued on this wonderful two CD compilation.
Some of the earlier selections were apparently the Okeh company's response to rival Columbia's big selling Skillet Lickers hits. Indeed, Johnson 'covered' several of Gid Tanner and the boys' more popular numbers, including Bully Of The Town, and the wild falsetto singing that was Tanner's trademark is mimicked on a number of Earl's records.
But the real stand-outs are the blisteringly hot fiddle tunes that feature some of the slipperiest, over-the-top old-time music you'll ever hear. Anywhere. "Leather Breeches," "Red Hot Breakdown," "Johnny Get You Gun" and "I've Got A Woman On Sourwood Mountain" fall into this rambunctious category. And the strangest version of Twinkle Little Star ever played by any fiddler includes some wonderful stop-time antics, along with a high part that has Johnson sliding all over the upper reaches of his fingerboard. This was something he obviously like to do - a lot. You'll hear it on a number of these pieces.
The stellar rhythm section of Red Henderson (or Byrd Moore) on guitar and Emmett Bankston on banjo supplies a rock-solid foundation for this hard driving short-bow style of Georgia fiddle music. On a few numbers, where an unknown second fiddler is added, the playing is a bit more restrained. But still insistently hot.
Many of the tunes include vocals, often in an exuberant ensemble style, sometimes by banjo man Bankston, or guitarist Moore when he was present. Johnson himself was no mean old-time singer, and He's A Beaut, I Lost My Girl, I Get My Whiskey From Rockingham and John Henry Blues are fine examples of his fiddle and voice working together. This is fun music no matter how you look at it, or listen to it.
Each Document release comes with a complete discography compiled by noted British collector/discographer Tony Russell, a name that should be familiar to serious fans of old-time music. The sound quality of the recordings varies from 'could be better' to excellent, but it should be remembered that in some cases, very few copies of the original discs have survived.
- Frank Dalton
You'll also find many of these recordings from County Sales and most can be ordered from Mabel's Music
In Europe, Africa and Asia, go right to Document Records: www.document-records.com
Available at cdroots.com:
Grayson and Whittier: Volume 1
Grayson and Whittier: Volume 2
Roy Harvey: Volume 4
Earl Johnson Volume 1
Earl Johnson Volume 2
Search cdroots.com for the rest of the Document series.