Various Artists
The Devil's Swing: El Columpio Del Diablo
Arhoolie (www.arhoolie.com )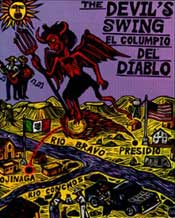 When oral tradition quickly slipped away in the 20th century, the art of ballad writing seemed to go with it. Luckily, in isolated spots like La Junta de los Ríos, corridos, or narrative ballads, have continued to thrive. These ballads preserve Texas-Mexican border culture dating from the mid-nineteenth century to the present, documenting everything from cattle drives to modern day drug lords.
Vibrant accordion and bright singing enlivens much of The Devil's Swing. Los Palomares De Ojinaga enlists vivid harmony in Corrido De Kiansas to tell the story of a dangerous cattle drive in Kansas, while Los Palomares Del Bravo recalls the legendary Puncho Villa in, La Tumba De Villa. Many songs, like Los Jilgueros Del Arroyo s bloody ballad, La Muerte De Fermín Arévalos, document the illegal trafficking of drugs and assassinations of rival drug lords. The music of these story songs is often happy and danceable, despite the grim subject matter.
The Devil's Swing was recorded as a companion for the film of the same name. This fresh recording, with its ballads and acoustic instruments, will probably evoke an earlier, simpler culture to many listeners. But the tales of drug smuggling disavow that. The lyrics also point out the continued uneasiness between Mexicans and Americans along the border. The Devil's Swing manages the twin tasks of documenting the life of a unique culture while remaining musically enjoyable. - Ronnie D. Lankford
Comment on this music or the web site.
Write a Letter to the Editor