Danu
All Things Considered
Shanachie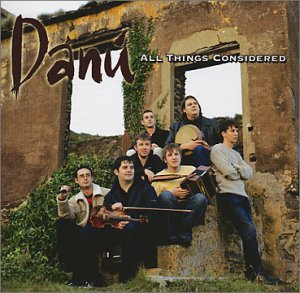 Over the years many bands have experimented with Irish traditional music, taking it in new directions, and there's nothing wrong with that when it works. Danu bucks the trend as they step back and return to a much more orthodox approach for All Things Considered, their second release. It's like a breath of traditional fresh air.
The album was recorded during a time of change for the band. Fiddler Jesse Smith, who plays on most tracks, has since left the band and Oisin MacAuley, who appears on three pieces, replaced him. Otherwise, the band remains the same, with Tom Doorley (flute, low whistle), Eamon Doorley (bouzouki, mandola) Brendan McCarthy (accordions, harmonica), Noel Ryan (guitar), Donnchadh Gough (bodhran, pipes) and Ciaran O Gealbhain (vocals, piano accordion).
The six songs and eight instrumental sets present a balanced mix of popular and lesser-heard pieces. O Gealbhain has a gentle, yet substantial, voice, one which almost lulls you and then draws you in. The result is that even familiar songs sound new and refreshing.
Danu has a powerful approach to playing melodies. Often, two or three melody instruments will play in unison, with one taking the lead over the others. This way, they allow the tunes to remain in your head long after they've stopped playing. Smith is a deft fiddler, using some lovely ornamentation. Undoubtedly, he will be missed, but on the occasions MacAuley plays, it's obvious the band has a distinctive replacement. This is especially so with his harmony singing and the guitar playing he adds.
Think Before You Think, their excellent first release, showed a band with great potential. All Things Considered sees them fulfilling that promise. The same tightness in playing is present, as are the crisp arrangements and warm production but there is also a confidence that says Danu has truly arrived. - Jamie O'Brien
Available from cdroots.com