Cyro Baptista
Beat the Donkey
Tzadik
"In Brazil, everybody is a soccer coach and everybody is a percussionist. Percussion, like soccer, is part of our daily life, at work, at the dinner table, the way we walk, the way we talk, think and relate to each other." - Cyro Baptista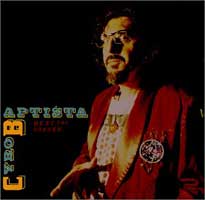 From the opening call-and-response chanting, batucada thunder drumming, slash-and-burn guitar and global punk attitude of "The Crab and the Shining Star," Brazilian multi-percussionist and rhythmic shaman Cyro Baptista hustles the unsuspecting into an untracked sonic universe. Teaming with guitar polymath and partner-in-crime Kevin Breit, fellow string-masters Marc Ribot and Romero Lubambo, singer Luciana Souza, producer and saxist John Zorn, and a percussion-and-vocals cast of thousands, Beat the Donkey is one unrepentant aural pastiche from the dark side of the moon. What does it all mean?
Those who know the quirky inspiration of the Baptista-Breit Supergenerous project (Blue Note, 1999, now out of print, alas) may be marginally better prepared than the uninitiated. For an inkling of what Beat the Donkey might be about (no guarantees in this life), start with the CD's bonus video track, a clip from the Emmy Award-winning WGBH-TV documentary. An astounding athletic vitality suffuses their eye- and ear-popping performance, wherein the conceptual lines between music, voice, rhythm and dance melt into air, as the percussionists interact in a sweaty tag-team musical kinesthesia that owes much to the stylized capoeira duel. For starters.
We got your samba jazz ("Ama"), choro (the eponymous flamenco-son tinge of "Cyrandeiro," or "Parar de Fumar," a jaunty clarinet-dappled lament on kicking the smoking jones), capoeira ("Sweet Cuica"), rumba-tap ("Tapping the Stars"), gamelan-heavy metal ("Rio de Jakarta"), finger-popping neo-MPB vocal harmony ("Sapo and the Prince"), and Afro-Brazilian ("Slave Anastacia"). Then there's the impossible to classify: "O Canto da Ema," planetary hip-hop R&B goulash in the casa, or something. Likewise, "Mr. Bugaloo," an atomic fusion of Zorn's agonized saxophone with Breit's ringing pedal steel lyricism and a fuzz-tone jive. Finally, there's "Funk One/Live at La Plaza," with a prize to the first reader who declines to "Name that genre!"
Gore Vidal was onto something when he called the USA the land of the dull and the home of the un-ironic, but that was before Beat the Donkey obeyed the call-up to be all they can be. Not that they'll be braying for our men and women in uniform any time soon. But like Pele, their inspired musical footwork makes for one beautiful game. - Michael Stone
The artist's web site is www.cyrobaptista.com