Three Generations of Cuban Piano
Michael Stone looks in on some keyboard masters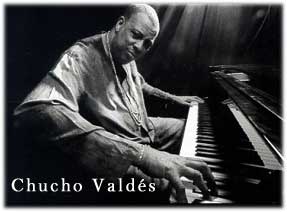 Frank Emilio Flynn y sus Amigos
Barbarísimo
Milan Latino 35791-2
Frank Emilio Flynn
Ancestral Reflections / Reflejos Ancestrales
Blue Note 98918
Jesús "Chucho" Valdés
Briyumba Palo Congo: Religion of the Congo
Blue Note 98917
Gonzalo Rubalcaba
Inner Voyage
Blue Note 99241 (www.bluenote.com)
The interaction between Cuban and North American music has a long history, one that began in New Orleans. In the mid-nineteenth century, Crescent City pianist and composer Louis Moreau Gottschalk traveled throughout the Caribbean, freely incorporating into his compositions the melodies and rhythms of the region's diverse musical traditions (Louis Moreau Gottschalk, Smithsonian Folkways SF40803). By the 1870s, the habanera bass line, an essential stylistic feature of the Cuban contradanza, was gaining popularity as the first major Latin influence on North American music. First linked via the transatlantic slave trade, as major Caribbean ports separated by a mere 650 miles, Havana and New Orleans swapped musicians, touring acts, instruments and sheet music in a process of cultural exchange extended by twentieth-century recording technology, radio broadcasting and the record business. U.S. firms began recording in Havana in 1906, and many sides found their way north long before the first New Orleans recording sessions in 1923. Of course, ragtime and early jazz were steeped in a Caribbean gumbo as well. Jelly Roll Morton built in habanera bass lines, melodic doublings in thirds, and a melodic emphasis on the fifth and sixth degrees of the scale, classic elements of what he famously distinguished as the "Spanish tinge" of New Orleans music.
U.S. music impacted Cuba as well, beginning with the Spanish-American War invasion in 1898, which unleashed U.S. martial brass bands on the island. Moderating the effect were the suave orquesta francesa ("French orchestra") or charanga, European classical composition, and seminal Cuban composers Manuel Saumell, Ignacio Cervantes, Antonio María Romeu and Ernesto Lecuona. Enter Frank Emilio Flynn, the blind master pianist who apprenticed with danzón innovator Romeu, Ignacio Piñeiro's legendary Septeto Nacional and famed sonero Miguel Matamoros. From his first 1940s radio broadcasts and concerts, Frank Emilio's infallible style and sprightly execution have made him a household name throughout Cuba. Along with Cuban classical and popular strains, he favors Bach, Chopin and Ravel, whose savor he combines with a taste for George Gershwin, Art Tatum, Bud Powell, George Shearing, Lennie Tristano and Dave Brubeck. Frank Emilio's Quinteto Cubana de la Música Moderna paved the way for such jazz-oriented Cuban groups as Irakere and Los Van Van. Soprano saxophonist and flautist Jane Bunnett is another loyal booster; her superb Spirits of Havana (Messidor) and Chamalongo (Blue Note) feature Frank Emilio's piano prominently, for audibly self-evident reasons.
On Barbarísimo, Frank Emilio (now age 78) assembles percussionists Miguel "Angá" Díaz and José Luís "Changuito" Quintana, former Irakere flautist Orlando "Maraca" Valle, bassist Carlitos del Puerto, singer Eugenio "El Raspa" Rodríguez, Enrique Lazaga (güiro, claves, tom-tom) and his charanga, La Orquesta Ritmo Oriental. High points include Frank Emilio's own "Gandinga, Mondongo y Sandunga" (a rumba), "Los Amigos" (a mambo) and "Leungó" (an Afro-cubano). "Mi Ayer" (a stately bolero) and a pre-Cooder take of "Social Club Buena Vista" (the classic danzón by pianist and mambo innovator Orestes López) are other standouts.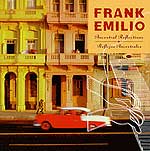 Ancestral Reflections reunites Lazaga and "Changuito," adding Joaquín Olivero Gavilán (wooden charanga flute), Lázaro Jesús Ordoñez Enríquez and Pablo A. Mesa Suárez (violins), William Rubalcaba (bass), Federico Arístides "Tata Güines" Soto (congas), and the sublime vocals of Juan Crespo Masa and Enrique Contreras Orama (e.g., "Rico Melao"), with guest spots by "Maraca" and Barbarito Torres (lute on the rippling criolla, "El Arroyo Que Murmura"). The seamless result is a masterful essay on the charanga's enduring appeal. Check his own "Guerra de Flautas," a brilliant 11-minute counterpoint descarga between flautists "Maraca" and Olivero Gavilán; the title track, Frank Emilio's extended percussive exploration of the Afro-cubano song form; Lecuona's "La Conga Se Va"; the classic danzón, "Juventud De Pueblo Nuevo"; and the superbly rendered rumbas, "La Mulata Rumbera" and "Bilongo" (a.k.a. "Mandinga"). On the strength of these two albums and his work with Jane Bunnett, Blue Note should get Frank Emilio back into the studio pronto, and a flood of his Cuban reissues seems assured.
Jesús "Chucho" Valdés, who co-produced Ancestral Reflections, is the son of Frank Emilio's contemporary, pianist Ramón "Bebo" Valdés. The versatile younger Valdés (now age 57) apprenticed with Armando Romeu, Ernesto Lecuona and Beny Moré before co-founding Irakere in 1973. Starting with his sublime but difficult-to-find solo piano effort, Lucumí (Messidor, 1988), Valdés has followed his own bright star. Briyumba Palo Congo is his third Blue Note title dedicated to the panoply of Afro-Cuban deities. He enjoys solid backing by Francisco Rubío Pampin (acoustic bass, vocals, chorus), Raúl Pineda Roque (traps, chorus) and Roberto Vizcaíno Guillót (conga, batá drums, chorus). Guests include the ubiquitous Joaquín Olivero Gavilán (wooden charanga flute on "Rhapsody in Blue," freshly rendered in danzón style), and on the densely percussive title track, a charismatic trio of singers, Mayra Caridad Valdés, Juan "Chan" Campo Cárdenas and Haila Mompié González. With a powerful nod to Bud Powell, McCoy Tyner and the Duke himself, Valdés double-times through a montuno-laden "Caravan," much in the manner of his own high-flying "El Rumbón" and "Pónle La Clave." The ghost of Bill Evans hovers over "Bolero," a smoky, late-night jazz ballad, and "Embraceable You," lightly brushed by the rhythm section.
Gonzalo Rubalcaba likewise hails from Cuban music royalty; his father Guillermo was the pianist for cha-cha-cha inventor Enrique Jorrín's eminent Orquesta América. The younger Rubalcaba came of age trading licks with Beny Moré, Orquesta Aragón, Irakere and Los Van Van before founding his own touring combo and making international waves with bassist Charlie Haden in a noted 1989 concert (The Montréal Tapes, Verve). A decade later, at age 36 Rubalcaba exhibits a phenomenal keyboard technique whose reflexive sense of dynamics, strength of attack and mastery of classical harmony signal a staggering musical consciousness. Rounding out this uncommon trio are Jeff Chambers, a gifted bassist, and Ignacio Berroa, a trap-set master with an eclectic, subtly textured approach and a flawless sense of Afro-Cuban rhythm.
As heard at the 1999 Skidmore Summer Jazz Institute, the Rubalcaba trio's joyously intuitive collective artistry is manifest in live performance. The grand piano sings under Rubalcaba's introspective touch. The towering Chambers kicks off his shoes and dances on his flying carpet to an exquisite inner signature, twirling the bass, coaxing it to murmur, growl and wail, ever testing his personal expressive limits. Berroa, the trio's senior presence, watches, listens and plays with a beatific wisdom confounding in its musical breadth and depth, unerring taste and transcendent good humor. Compare Rubalcaba's "Caravan" with Valdés's to hear how distinctly two generations of masters rooted in the Cuban clave and infused with a jazz sensibility approach their craft. If Rubalcaba's recordings have not always done justice to the burning heart and abundant intellect of his artistic inspiration, his Inner Voyage comes closer yet to that elusive objective, and indicates the soaring spiritual trajectory of Cuban piano to come.
---
Rebeca Mauleón-Santana
101 Montunos
Petaluma, CA: Sher Music Co., 1999. ISBN 1-883217-07-5 [book and 2-CD set]
Montuno translates literally as "of the mountains," a reference to the Cuban son's emergence in the eastern highlands of Oriente province. Its basic two-part structure derives from the Afro-Cuban rumba. The first section, known as the estribillo, involves the song verses. The second or montuno section features a call-and-response between the lead singer and chorus, as the former improvises both melodically and lyrically. The montuno can extend indefinitely over recurring harmonic and rhythmic figures, although early son recordings often omitted the montuno section, due to the three-minute limitations of the 78-rpm disk. By the 1930s, however, the montuno was integral to the son form, the foundation of modern salsa dance music. More generally, montuno has evolved to designate the patterned piano vamp or ostinato section of the array of associated regional Afro-Caribbean musical genres.
To complicate matters, Cuban musicians themselves usually refer to the piano pattern as the tumbao, which itself is deeply rooted in the concept of clave and the practice of descarga, an extended jam session. Hence Mauleón-Santana devotes the book's first section to unlocking the clave, sprung from the rumba's patterned rhythmic "key" (typically played on the hardwood claves or "rhythm sticks"), which figure anchors all the other instruments, singers and dancers in time. The author provides an informed and highly detailed exploration of the piano's vital harmonic, rhythmic and improvisatory role in the range of Afro-Caribbean musical styles, suggesting that they comprise an idiom whose interpretive nuances and emotive capacity mere formal study cannot hope to capture.
Mauleón-Santant presents a chronological array of piano montunos, supplemented with solo transcriptions of the Afro-Cuban piano deities, and examples of each pattern on CD. The book's side-by-side English-Spanish format and visually pleasing layout make this an easily used instruction manual, while its many rare photographs and illustrations complement a text that can stand alone as a solid introduction to the history and evolution of Afro-Caribbean piano artistry. An accomplished composer and performer herself (she has worked with Tito Puente, Cachao, Giovanni Hidalgo, Carlos "Patato" Valdez, Orestes Vilató, Carlos Santana, Stevie Winwood and Mickey Hart), Mauleón-Santana is also an educator (she teaches at Stanford University, the City College of San Francisco and the Berkeley Jazz School) and an enthusiastic scholar of Afro-Cuban music. 101 Montunos stands as the definitive introduction for pianists who aspire to approach the genre's great stylistic innovators and interpreters.
Available at cdroots.com:
Frank Emilio Flynn: Ancestral Reflections
Jesús "Chucho" Valdés
Gonzalo Rubalcaba