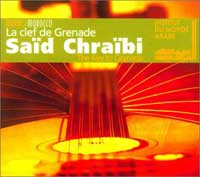 Sa´d Chra´bi
The Key to Granada
Institut du Monde Arabe
The Key to Granada is a great ud player's fetching dream of Arab-Andalusia, the fabled and still longed-for Moorish kingdom that married the lands north and south of the Gibraltar Strait. At age fifty, with thirty-seven years of playing behind him, Chra´bi has achieved not just mastery of his instrument but a personal aesthetic unique in the minions of maqam and taqsim. For not only his native Morocco is honored in his approach but also Turkish-Balkan, Persian, and ancient Hispano-Moslem, traditions, even flamenco.
The opening suite "Andaloussiyyat" is proof that Chraibi knows intimately both the yearning saudade, and the ever-inspiring beatific vision, of what was life in southern Spain a thousand years ago. At thirteen minutes "Andaloussiyyat" takes us through three moods separated by unexpected string-damped harmonics. The unaccompanied performance initiates the listener into an unrushed suspension of time, contemplating the key to a door somewhere once in Granada, no longer the home entry of an ancestor departed for North Africa a hundred years after the Christian reconquest. Nostalgia does not stop the unfolding of the three-piece solo set, which is played alternately with fire ("The Lover") and solemn dignity ("Musical Embroidery"). It is at this point of this hour long recording that Chraibi involves a variety of hand percussion by Jamal Rioui in a second set that pays individual tribute to each of his three daughters and his master Farid El-Atrache. The flavors of the four pieces are as differently colored as a map.
In total, The Key to Granada is not merely a tour-de-force of the Mediterranean ud, nor just a modern, imagined instrumental portrait of Al-Andalus. It is seven distinct acoustic pieces that are detailed with the nuance of story through Chra´bi's humbling skills, while remaining an object of contemplation in it's own right. Between the stillness of its exquisite architecture and the movement of human narrative within, the vision of Chra´bi's Arab Andalusian music amazes and soothes. - Steve Taylor