Chichi Peralta + Son Familia
... de Vuelta al Barrio
Caiman 2000 (www.caiman.com)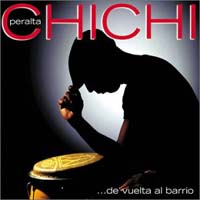 Dominican Republic band-leader Chichi Peralta has pulled together something big with ... de Vuelta al Barrio: big production, big ensemble, a dense wall of sound worthy of a Caribbean Phil Specter. At times it is a real contest, but Peralta's sweet, high vocal and especially his preternaturally precise brass arrangements prevail over the omnipresent threat of gratuitous lushness. In this context, the symphonic string arrangements common to most tracks assume a soothing, contrasting role, adding distinct levels of tonal depth.
On "Desengaņo (Disillusion)," jaunty hand percussion and the tinny twang of the requinto introduce Peralta's sweet high alto in a romantic melody. Strings rise behind a smooth male chorus. The sound veers towards Mantovanni-lush on a break, the returns with an accordion integrated into the mix, then a requinto solo in front of the dense if calm symphonic mix; there are continual surprises. "Sin Cortinas (Without Curtains)" showcases Peralta's vocal, supported by finger-picked guitar, violin, and symphonic strings. On "Con Solo un Beso (With Only One Kiss)" a slow, synthy romantic intro breaks into a high-energy merengue romp with lots of percussion, accordion, and frightfully tight brass, mocked by playful swooping strings and punctuated by synth fanfares, a deeper lead vocal adding varying the tonal texture. The title track features crazed yet tightly choreographed ranks and files of brass winding choppy gyres around Peralta's high vocal and a correspondingly staccato male chorus, strings once again offering a base, often smooth, at other times coaxing the brass into renewed exertions. "El Beso de Judas (The Kiss of Judas)" is the oddest piece, suffused with Middle Eastern sounds, a lead vocal delivered by telephone, heavy bass with a very African gently rocking beat and deep male chorus. ... de Vuelta al Barrio may sound a bit overblown at first, but this large ensemble repays persistent attention with ambitious arrangements and engaging performances. - Jim Foley