Hasta Siempre Comandante: 30 Años Después...
Tumi (www.tumi.music.ndirect.co.uk)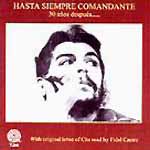 There is a saying that Latin Americans of a certain progressive affinity ascribe to Che Guevara, half romantically, and only half in jest: "Volveré, y no seré pancarta" ("I shall return, and not as a placard"). This album ( "Ever Onward, Comandante") marks the 30th anniversary of Guevara's execution by U.S.-backed Bolivian forces in his heroically failed attempt to spark an Andean revolution. Che's legendary, tragic figure lives on in the hearts and minds of many and, as Hasta Siempre reveals, his transcendent presence suffuses Latin American canción to its roots.
Layered between two letters from Che, read to the nation by their addressee, Fidel, are thirteen tributary offerings by Cuban and South American artists, several performed by the composers themselves, all but one from the fabled vaults of EGREM, the national recording enterprise. Included are the resonant, stirring bass of singer and composer Carlos Puebla ("Que pare el son," "Un hombre," "Lo eterno"), along with (among others) Elena Burke, Santiago Felio, Sara Gonzalez, Amaury Perez (a fine recital of her own "Andes lo que andes") and Grupo 5U4 (with Puebla's proverbial "Hasta siempre comandante," the title track).
The booklet presents the superb black-and-white candids of distinguished Cuban photographer Osvaldo Salas, but regrettably, no notes on the artists, and no transcription of the tender, oft-luminous Spanish texts, only English translations not always up to the lyrical flight of the originals. But quibbling aside, these ballads and sones, recorded between Che's 1967 death and 1996, render Pan-American witness to his enduring stature among an extensive global sodality, singing out to a world more just and humane than the present, dispossessed. - Michael Stone