Rubén González
Chanchullo
World Circuit / Nonesuch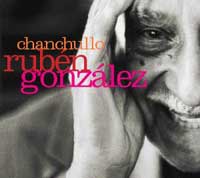 With his second World Circuit release, septuagenarian pianist Rubén González further reveals a virtuoso blend of traditional Cuban danzón, bolero, cha-cha and son with classical influences. A product of the Cienfuegos Conservatory, González joined sonero Arsenio Rodríguez (whom he still cites as his primary musical influence) in 1941, and later played with percussionist Mongo Santamaria. He also worked in Panama and Argentina, in the latter case incorporating stylistic elements of the tango. Returning to Cuba around the time of the revolution, in the early 1960s González joined celebrated bandleader and cha-cha inventor Enrique Jorrín, with whom he played until Jorrín's passing in the mid-1980s. The saga of González's renaissance with the Buena Vista and Afro-Cuban All Star projects is already the stuff of legend, and Chanchullo's vitality simply confirms his resonance with the steadfast spirit of Cuban popular music.
The opening, title cut lays out a loping descarga, a dynamic interplay between the core piano figure and vocal chorus, anchored by the dead-on rhythm section of bassist Cachaíto López, timbalero Amadito Valdés, congüero Miguel 'Angá' Díaz, and percussionists Roberto García, Alberto "Virgilio" Valdéz, and Alejandro Pichardo Perez, and the subtle baritone sax growl of guest Javier Zalba. "De una Manera Espantosa" features guest vocalist Ibrahim Ferrer and a solid trumpet-trombone duet between Ramos and 'Guajiro' Mirabal. Cheikh Lô lends a haunting vocal presence to "Choco's Guajira," with ringing tres work by Papi Oviedo and Ry Cooder. In "Central Constancia," a danzón-cha, González invokes the kindred charanga spirits of Jorrín and Orquesta Aragón, with a bright vocal duet between Lázaro Villa and Ramos, with guests Lázaro Gordonez Enriquez on violin, and Richard Egües and Joaquín Oliveiras on flutes. González further plumbs his cha-cha roots on "El Bodeguero" and "Rico Vacilón."
In a more classic vein, his straight-ahead read of the Cachao danzón, "Isora Club," offers superb trombone and trumpet solos, punctuated with his signature keyboard arpeggios and glissandos. "Pa' Gozar," the album encore, another descarga, serves up the simmering trombone of Jesús 'Aguaje' Ramos, the band's musical director. Would that González had developed some of his ideas more thoroughly, if only for their exquisiteness, as in the album's only piano solo, "Si Te Contará," a wistful meditation, or "Quizás, Quizás," the classic bolero. But one hesitates to ask more of an album whose stately conception, relaxed take on tradition and effortless virtuosity confirm an enduring talent. Cuban vintage comes no better than this. - Michael Stone
Comment on this music or the web site.
Write a Letter to the Editor