Los Cenzontles
De Una Bonita
Arhoolie (www.arhoolie.com)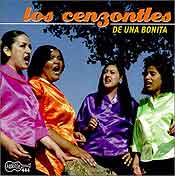 Los Cenzontles is a loose grouping of Californians specializing in presenting a wide palette of Mexican, mostly tradition-based genres. This album contains selections from five older albums by the group, previously available only locally.
There are nineteen musicians in various small combinations of instruments: clarinet, brass, acoustic guitars of various sizes, violin and hand percussion. But the focus is on the several vocalists. Happily the lyrics are presented in English and Spanish. The singers are very able, occasionally outstanding, mostly in that beautiful, full throated, plaintive delivery of traditional Mexican vocalists.
The wide ranging repertoire is suggested by a list of styles on the album, from brass dominated ranchera-polkas and waltzes, mariachi, lush boleros, and Colombian derived cumbias, to the string tradition of jarocho, Cuban influenced tropical and son montuno, a couple of modern ballads and a slow religious song performed as an a cappella trio. There is even an unclassifiable version of the Cuban classic "Lagrimas Negras."
The best of cuts are unaffected and effective in classic styles of Mexican music, and the best are in the majority here.- Stacy Phillips
Comment on this music or the web site.
Write a Letter to the Editor