Martin Carthy
The Carthy Chronicles
Free Reed (www.free-reed.co.uk/carthy)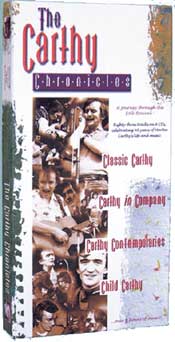 Without question, this boxed set is the most comprehensive overview of Martin Carthy's career to date. It consists of four CDs and eighty-three tracks covers the entire history of the U.K. folk revival. Carthy's contribution is immeasurable. That he is blessed with a wonderful voice and stunning guitar technique is well-established, but The Carthy Chronicles provides perspective and acknowledges how he fits into the pantheon of his singing forbears, and how his radical vision has affected the interpretation of both traditional music and contemporary folk-rock.
Free Reed's Neil Wayne has compiled The Carthy Chronicles with a number of different audiences in mind: those unfamiliar with Martin Carthy's work, fans already familiar with Carthy's oeuvre but want more, and the folk fanatic and completist. The set is ingeniously arranged, shunning a strict chronological sequencing of tracks in favor of an overall theme for each disc. Every volume thus provides a summation of essential aspects of Martin's legacy.
Disc 1 focuses on Classic Carthy, those songs most associated with his career; Carthy in Company, features collaborations with other folk and rock luminaries. The tracks on Carthy Contemporaries are Carthy-esque readings of contemporary songwriters; and Child Carthy, features the great ballads from the Child collection. One of the great pleasures of The Carthy Chronicles is the care accorded to the selections. On 'Carthy in Company' we are treated to a whole set that illuminates the ancient ritual of hunting the wren: "The Wren" with Dave Swarbrick (1969); "The King" with Steeleye Span (1971); "Joy Health Love and Peace," with the Watersons (1977); and Steeleye Span again, with a live "Hunting the Wren" (1978). We bear witness to Martin exploring the wellsprings of tradition in different contexts; acoustic, acapella, and electric.

Each CD is loaded with performances that are easily definitive versions of the songs. One would expect to hear "Byker Hill," of course, the monumental version with Swarb from 1967; but one can also compare that original with the later, comfortably warm take from 1990 that ends Disc 2. And as for "Scarborough Fair," naturally it's here, but Free Reed also provides a Web link where Martin and Paul Simon sing the song together in a concert from 2000, effectively ending a 35 year old folk controversy.
The lavish, extensive 100 page book provides wonderful background material and traces Carthy as a thread binding the folk song revival together. The detailed song descriptions are amazing and since the tracks are not chronological, the notes encourage one to listen for Carthy's influences and to explore how tunes and lyrics are reworked. I could have done with more information from Carthy himself regarding the creative process that goes into gathering and altering folk songs, but this is a small quibble when arrayed against the wealth of material in this set. Collectors will appreciate the thorough, annotated discography as well.

Martin Carthy is obviously the center of attention, but the list of artists included reads like a "Who's Who" of folk: Dave Swarbrick, the Watersons, Steeleye Span, Brass Monkey, the Albion Band, and John Kirkpatrick, are just a few. Each setting reiterates Carthy's influence in folk song, so that it becomes difficult indeed to imagine the revival without his presence and dedication. The Carthy Chronicles is a brilliant landmark, a labor of love, and probably the folk release of the year. - Lee Blackstone
Available at cdRoots,
where you can also see a full track listing and more notes on the collection