Various Artists
Cape Verde - An Archipelago of Music
Ocora (double CD)
Raiz di Djarfogo
Cap-Vert: Raiz di Djarfogo
Ocora
The double CD Cape Verde - An Archipelago of Music contains several examples from each of nine islands of the archipelago. Most of the cuts are the mix of Afro-European "mornas", "coledeiras" and related dance-types that have dominated the recent crop of recordings from Cape Verde. If you have not heard this style before, the effect is exotic, yet familiar, with echoes of 19th century "parlor music". There used to be music similar to this on many Caribbean islands. The groups include various mixes of accordions, Portuguese guitars, violin and gentle Caribbean-sounding scrapers and shakers. The effect is sweet, charming, mournful, and lightly swinging.
But there are a bunch of local genres here I have not heard before. Some are West African-sounding vocals (although without the hand percussion settings usually associated with the area). The pieces are used for local rituals and work accompaniment.
All in all, lots of fine roots stuff here, with few pop influences, most of those from modern Brazil. The performers seem to be a mix of professional and ad-hoc amateur groupings. The album comes with a hard cover 44 page book in French, Portuguese and English. (Does anyone take advantage of these booklets to learn a new language?) A bit more about the performers would have been good,but there is plenty about the music itself.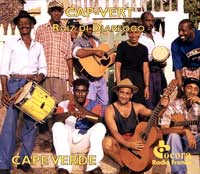 Cap-Vert: Raiz di Djarfogo presents the sounds of one band, the "Roots (Raiz) of Fogo Island" (This island is also represented in An Archipelago of Music). They are a typical old time group sound of guitars and shakers, centered around the vocalist. Besides mornas and coladeiras, the band is trying to revive song styles associated with local saints' festivals. Some of these are dependent on lyrics for effect, and don't particularly work for someone who does not understand the language. But there are some interesting local variations of the music of Cape Verde and this band has just the right sort of relaxed approach to be enjoyable. There is some very nice stuff here, but I am particularly taken by the double album anthology. If you are looking for one album from Cape Verde, that is the one. - Stacy Phillips