Orlando Cachaíto López
Cachaíto
World Circuit-Nonesuch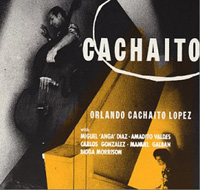 Among the most original sounds to emerge from Cuban traditional music's rediscovery, this is no Buena Vista Social Club formula rehash. Instead, BVSC veteran bassist Cachaíto leaps into untracked territory, melding Afro-Cuban foundations with an inspired contemporary blend of jazz, R&B, hip-hop DJ and reggae dub. Think bass 'n' drums 'n' horns, wherein Cachaíto convenes with the righteous rhythmic souls of Art Blakey, Mingus, Max Roach, Mongo Santamaria, Cal Tjader and the fleeting spirit of Latin Boogaloo.
Contributing are Jamaica's Hammond organ wizard Bigga Morrison, South African trumpeter Hugh Masakela, saxists Pee Wee Ellis (of James Brown and Van Morrison fame) and Jimmy Jenks (NG la Banda, Celia Cruz), brass-and-woodwind ace "Polo" Tamayo, and Los Zafiros doo-wop surf guitarist Manuel Galván. The standout Cuban rhythm section includes Miguel "Angá" Díaz (congas), Amadito Valdés (timbales), Carlitos González (bongos) and Alejandro Pichardo (maracas). Galván's eerie fuzz-tone guitar invokes the sound of legendary tresero Arsenio Rodriguez on "Oración Lucumí" and "Wahira," the latter with an affecting vocal cameo by the ageless Ibrahim Ferrer. Not for nothing did Cachaíto win the BBC Radio 3 Awards for World Music, 2002. Essential listening. - Michael Stone