Bukkene Bruse
The Stone Chair
Northside (www.noside.com)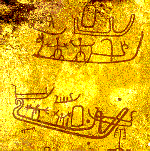 This release is a comprehensive introduction to this fine group of Norwegian players. It includes seven tracks from preceding CDs, with a mix of traditional songs and dances and a few originals thrown in for good measure. The group consists of Annbjørg Lien (Hardanger fiddle, fiddle, nyckelharpa and vocals), Arve Moen Bergset ( vocals, Hardanger fiddle, ordinary fiddle), Steinar Ofsdal ( flutes, Jews harp, vocals), and Bjørn Ole Rasch (keyboards).
The overall timbre of the recording is set by a combination of stringed instruments, notably the Hardanger fiddle, and various flutes (which in some cases replaced the Hardanger fiddle in locales where piety proscribed them). With its rich and full sound from its second set of sympathetic strings, this Norwegian folk emblem provides a driving melody-and-drone sound for dancing. Keyboard backup is limited to synthesizer pads to amplify harmonic settings. In some tracks this works well, in others like "Løvehjerte," it tends dangerously toward the ambient.
Annbjørg Lien is a wonderful interpreter of traditional Norwegian music, playing with precision and fire. Arve Bergset is possessed of a sweet and controlled tenor voice, which never gets edgy. His purity of tone is particularly apt in "Runarvisa" which gets an excellent arrangement starting out modal and veering in and out of major and modern chord settings. The songs for the most part are lyrical but quite austere, even when the subject matter is happy as in "Min gut." The only exception is "Til Saetersdal" which tells the tale of the three Billy Goats Gruff, and for which the band is named.
But it is the dance tunes that are the true lifeblood of this CD. The hallings and springars are dynamic, heart-pounding, foot-stomping romps. One can easily see how the devil was so much linked with the fiddle; if the complete giving up of self to music is a betrayal of God, then these tunes are truly sacrilegious. In the liner notes to "Norafjøls" it is explained that "...according to old stories, the (Faremo) brothers played this tune in a state of sheer ecstasy, and could not stop playing until their fiddles were pried out of their hands." After hearing this tune, the image is easy to imagine. Also of particular note is a halling written by Steinar Ofsdal which sounds as if it were handed down for generations.
At seventy-seven minutes, this is a long CD, and there is bound to be chaff thrown in with the wheat. This would have been an excellent CD at sixty minutes, but that's a small complaint. What is impressive about this collection is the excellence of the ensemble, the vitality of the repertoire and the sense of heritage that is communicated so vividly to the listener. - Michal Shapiro