Bohola
Bohola
Shanachie (www.shanachie.com)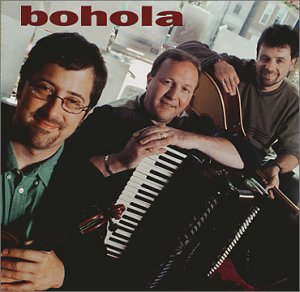 Chicago-based Bohola features three powerful, inventive musicians: Jimmy Keane (piano accordion), Sean Cleland (fiddles, viola) and Pat Broaders (vocals, dordan, bouzouki). Although this is their debut album, it's no beginner's effort. The three have played at the highest level over the years with some of the best in Irish music and joining together seems a natural.
Keane and Cleland are so attuned to each other's playing that at times they seem to create a single, rich sound, as if they breathe in unison. Behind them, Broader's chopping style of accompaniment provides a fitting rhythm. The flowing fiddle and accordion immediately attract attention, though it took a few tracks to get used to Broader's approach. "Ship In Full Sail" shows he can pick a tune with the best and it adds a tremendous balance to the melodies.
Many of the tunes are familiar, with a handful of rarities thrown in for good measure. But Bohola has devised new, unforced combinations; as they switch from one tune to the next, it's like shifting up a gear as pieces are revitalized, keeping the sets intriguing.
As the producer, Jimmy Keane has captured the music and atmosphere of the band with minimal special effects. The recording has a strong, live feel to it. At sixty-five minutes, it's a long album; but even on the two 11-minute-plus tracks, you never have the sense that the musicians lose focus. They know when to change tunes and when to stop. Bohola simply has a lot to say and knows how to say it. - Jamie O'Brien