Afel Bocoum
Alkibar
World Circuit/Nonesuch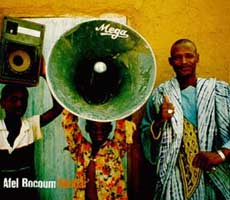 Recorded at Niafunke, Mali during the same sessions that produced Ali Farka Toure's Niafunke CD, Bocoum's first album may have benefited from the alchemy that was in the air. Bocoum is Toure's protégé, and many of the instrumentalists on Toure's album also played on Bocoum's; both albums were produced by Nick Gold.
It is impossible to discuss Bocoum without referencing Toure; they are from the same town, and Bocoum's debut in the late 60s was made with Toure's band. Still, Bocoum tends to stick closer to home than his mentor; the two play in the same style, though Bocoum's music is more acoustic, sparse, and trancelike than Toure. The trance-like nature of his music recalls the traditional style of the Sonrai, nuanced and persistent rather than overwhelmingly powerful.
Languid and mournful, Bocoum's thin voice wails above his staccato acoustic guitar lines, while the traditional njurkle guitar (imagine a rounded one- or two-stringed ukelele) and njarka violin (again: like a rounded, miniature one-string version of its Western cousin) fill out the string section. The sound is clear and undistorted, and evenly mixed, allowing each instrument to be clearly heard without having to pick them out from a lot of electric competition. The percussion will be familiar to those who know Toure; the calabash, tapped like a drum and damped or released to provide different tones; a djembe completes the rhythm section. Three backup singers and another guitarist finish the lineup. Toure does a star turn on two tracks ("Jaman Moro" and "Yarabitala"). - Craig Tower
(Marketers and cynics take note: The image above is from the US release. On the UK World Circuit CD cover we have Bocoum in a flowing indigo robe, being rowed across a river in a dugout canoe; on the domestic cassette sleeve, Bocoum is leaning against a wall in a modern leisure suit with sunglasses and European loafers.)