Tish Hinojosa
Sign of Truth

The Blazers
Puro Blazers
Both titles Rounder (www.rounder.com)

As Allen Ginsberg might have ironically put it, Tish Hinojosa and the Blazers represent the pure product of the Americas. Growing up on San Antonio's predominantly Mexican-American Westside, Tish Hinojosa made the cultural influences of two worlds her own. She assimilated Mexican corridos, Tex-Mex conjunto and Mexican-American R&B along with an array of new country and pop-rock influences. Think Mary Chapin Carpenter, Rosanne Cash, Shawn Colvin, Rodney Crowell, Emmylou Harris, Michael Martin Murphey, Aretha Franklin, Simon and Garfunkel, the Beatles and the Byrds.

Whatever her outlook, Hinojosa's pure soprano voice, romantic vision, dead-on pop songwriting sensibility and feel for the musical hook are the core strengths of Sign of Truth. Its faintly world-weary stance signals a certain maturation in her life and work, and a refusal to be constrained by the expectations of some that her music is, or ought to be, purely Mexican-American. As Hinojosa observes, "If it means adding a little more pop edge... while still keeping the folk to a certain degree, that would be the perfect balance." Listeners seeking the roots sounds of Memorabilia Navideña, Frontéjas and Cada Niño will find a relaxed bilingual and bicultural approach, but will miss the invigorating influence of her apprenticeship with Mexican-American folklorist, border historian, ethnomusicologist and singer Don Américo Paredes. While there is a certain Tex-Mex and Latin savor throughout, Sign of Truth is also close to the Byrds' Sweetheart of the Rodeo ("Mona Lisa by the Rio Grande"), Buddy Holly ("Faded Souvenir"), the Beatles ("Wildflowers") and even the Celtic oeuvre ("Song for the Journey").

Hinojosa seems to have forged a shifting equilibrium between a sense of her folk heritage and mainstream inspiration, making manifest her cross-cultural perspective. As good a measure of Hinojosa's broad appeal as any, my four-year-old is an inveterate Tish fan (especially Frontéjas and Cada Niño) in the same way her tastes run to Flaco Jiménez, Steve Jordan, and the Blazers: she loves to dance. But apart from the menacing promise of the opening riffs of "Fire in Winter" and "Taste of Dying Summer," Sign of Truth is an album for listening and poetic reflection rather than dancing, a long way from the rootsy conjunto ambience of Frontejas.

Westward in East L.A., comparisons between Los Lobos and the Blazers may be inevitable, if nothing else an artifact of the industry's knee-jerk penchant for categorization. In fact, Los Lobos' singer-guitarist Cesar Rosas was instrumental in getting the Blazers into the studio, yet they are nobody's band but their own. They too have had to negotiate the challenges of a fiercely urban bicultural world. In their own words, "Around our homes you could hear the rock 'n' roll of people like Chuck Berry, and you could also hear blues, jazz, norteño music and cumbias."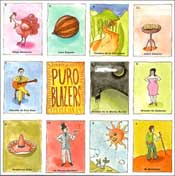 As revealed on Puro Blazers (number four on Rounder and their first all Spanish-language recording), at heart they remain a good-time working dance band, logging well over 200 live dates annually. Eschewing the energetic R&B bent of prior releases for a more traditional mood of Mexican-inspired folk and popular dance music, Puro Blazers serves up a spirited mix of cumbia ("El Mochilón," "Grande de Caderas," "Coco Rayado") and norteño ("Vieja Escalera," "Tu Nuevo Cariñito," "Libro Abierto"). In a more contemplative moment, the band invokes the departed spirit of Ritchie Valens with a fine rendition of "Creí," the ageless bolero. Overall, the poetry here is in the music's visceral kinetic allure: Puro Blazers, an eminently danceable conjunto at ease astride the cultural borderlands. - Michael Stone


Write a Letter to the Editor