Black 47
New York Town
Gadfly Records (www.gadflyrecords.com)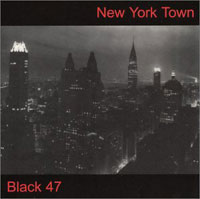 Black 47 weave bittersweet themes of betrayal and heroism throughout their latest album. Black 47 frontman/playwright Larry Kirwan, himself long out of County Wexford, opens with a fierce, loping tribute to the San Patricios, a battalion of Irish immigrant soldiers who turned their guns against land-grabbing, raping, crusading US forces back in the 1840s. They were prodigal sons to Ireland, martyrs to Mexico, traitors to the Yanks; one person's hero, as they say.
Most Irish-American bands wouldn't touch that subject, but Black 47 is not your typical Irish-American band. Drawing on Irish tradition, reggae, rock, jazz and theatrical monologues, they have evolved from a top-shelf bar band to something quite unique. No sentimental thicks here. Black 47 is dramatically hip and politically savvy, the musical counterpart to Jim Sheridan films like "In America."
New York Town revolves around ironic dramatic conflicts: lovers ripped apart by family values, toughs killed for love, good priests killed for religion, a city pulled together by destruction and fear. The unity of dissidents: rebels, junkies, cops, faltering saints and secretaries and all those involuntary martyrs of September 11. And the need to keep faith while suspecting the worst in an era of black ops and political betrayal.

The album's title song poses the Big Question: Just what the hell really happened that bright September day? The answer may be a lot scarier even than the terrifying official version. Black 47's suggested nightmare vision of what New York Town experienced is far more unsettling than Bruce Springsteen's piously transcendant imagery in "The Rising" and has a lot more chilling bagpipe and stratocaster lines in it. Kirwan and his House Band of NYC were right there when it happened. Suffice it to say that Larry Kirwan won't be voting Republican this November.

Serious themes, indeed, but they are delivered with wit and wordplay, and not to forget, music; Black 47 bounces, rocks and hops along with its brass and riddim and Uileann sections still wild and undiscouraged. Eileen Ivers, Suzy Roche, Rosanne Cash and David "Buster Poindexter" Johansen head up a stellar lineup of guest artists. Their contributions spike the quirky, eclectic '47 groove, especially Johansen's raucous roll through Staten Island, and underline how widely-beloved this band is. Big names now love them and many a movie star has worked Black 47 into background shots in a feature film over the years.

Black 47's New York Town looks into the eye of the less-than-perfect storm that has hit America. A hard look that is, good folks' corpses and all, and it may take a joke, a jig, a pint of strong stout, and more courage than we thought we had to get past it. But this band has survived the worst thus far, like their fans, like working people everywhere. Even George W's treasonous tinpot fascism and trumped up holy wars don't really scare them nor blunt their love for the truth in this land of immigrant souls. Black 47 will keep on rockin' in the (questionably) free world for a long time to come. New York Town is their best work yet, a masterpiece. - Bill Nevins

Available from Amazon.com

The band's web site
Audio ©2004 Black 47, Larry Kirwan, used by permission