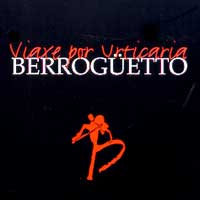 Berrogüetto
Viaxe por Urticaria
Do Fol / Boa Music, Spain (www.boa-music.com)

In European folk music, there aren't many bands that know how to mix traditional and modern sounds with perfection, but among this small group there has to be a place for the Galician band Berrogüetto. This band is composed of seven elements: Quico Comesana plays harp and bouzouki; Guillermo Fernandez, several types of guitars; Isaac Palacin, percussion instruments; Santiago Cribeiro, accordion and keyboards, and Anxo Pintos contributes several instruments including sax, flutes, fiddle, pipes and hurdy-gurdy; fiddler Quim Farinha and singer Guadi Galego then joined these five musicians, the founders of the group, for their second album (in which the title roughly translates as a "voyage through Urticaria," a village that is part of a 19th century Utopian myth).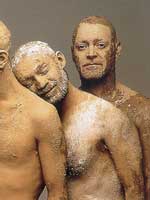 Viaxe por Urticaria follows in the footsteps of their debut album Navicularia, mixing music from Galician tradition with other forms. This blending comes naturally because even as all of these musicians share a love of the traditional music of their homeland, each has also become proficient in other styles like jazz, pop and medieval music. The high level of quality hasn't changed either. Their first album was a masterpiece and this one is another strong recording. "Aqui Canto," the tune that opens the album, sets the standard and throughout ten other tunes the quality never drops. As each tune evolves, the musicians weave their instruments into intricate and beautiful sound patterns.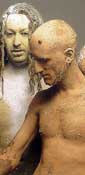 Berrogüetto is a band that does not depend on any particular musician. Although Anxo Pintos is a major reference in the band, the roles played by the each of the other members are equally important. In one tune the hurdy-gurdy of Anxo Pintos plays a major role, in the next it's the accordion of Santiago Cribeiro or the fiddle of Quim Farinha or the voice of Guadi

Galego that lead the tune. Looking at the CD sleeve further illustrates this point: of the seven musicians, only one did not write any of the tunes. It's very difficult to pick a tune as the best in the album because all of them are absolutely fantastic, but maybe the tunes that better illustrate the beauty of Berrogüetto's sound are "Aqui Canto," "Transito," "Indosesta," "Ausencia" and the beautiful siblings "Lusco" and "Fusco."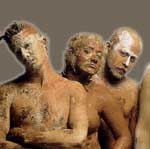 Berrogüetto is the great musical paradox. They are tradition and innovation, old and new. Their music does not wear out, but is rediscovered with each listening. There is always something new; some sound we had not heard, some new intricate arrangement that we hadn't noticed before. And in discovering these new small bits of the music, we can enjoy a fantastic voyage. - Joao Maia
Audio ©2000 DoFol Music, Spain
Available at cdRoots
Comment on this music or the web site.
Write a Letter to the Editor