Geoff Berner
Light Enough to Travel
Kolakovsky (www.geoffberner.com/)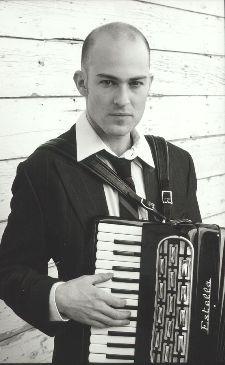 This six-track (seven counting the semi-obligatory Hidden Track) EP by Vancouver's Geoff Berner demonstrates that the accordion can lend both frivolity and gravity to music, sometimes at the very same time. The production is simple, Berner's accordion swelling and waning, a Miss Murgatroid style oceanic musical backdrop to his snide, nasal vocal, itself reminiscent of Dan Bern or Wally Pleasant. The mock-seriousness and occasional playfulness of the accordion are held in fine tension with Berner's acid personal and social observations, the casual feel of his rhymes and rhythms somehow keeping even the most outrageous taunts from sounding bitter. Imagine Weird Al gargling with bile and then favoring the listener with a projectile id-dump.
We learn from the title track that Berner despises nightclubs ("can't tell the bouncers from the customers, and I don't know which I prefer"), and "I.Y.M." (It's Your Money) teams lively accordion with supercilious deliberations on self-interest in a dangerous fantasy world of myth, illusion, and scrambled causality, ultimately recognizable as our own. The spritely accordion of "Public Relations" leavens Berner's indictment of a culture of promotion and perception, a condemnation too dizzy to be consistently bitter, despite equation of ad execs with Joseph Goebbels: "We're not selling a product; we're selling a feeling." "Suburban Family of Spies" comes closest to repugnance, with its tale of haywire horrors perpetrated by the new neighbors, and a dissonant accordion bridge. "My Dad's a Lawyer" bristles with threats and intimidation, and echoes a Ray Davies lyrical turn, rhyming 'lawyer' with 'destroy ya'; I suppose I'd better write a good review.
It may represent only a minor achievement in the grander scheme of matters musical, but Geoff Berner does succeed in a precarious balance of insolence and playfulness. Listening to the results is tooth-gritting entertainment. - Jim Foley
Geoff Berner's Web Site photo and audio &copy2000; Geoff Berner, used by permision
Comment on this music or the web site.
Write a Letter to the Editor