Various Artists
Trikitixa! Basque Melodeon Gems
Various Artists
Voices of Euskadi
both titles: Triki-Elkarlanean (www.jalgi.com/elkarlanean)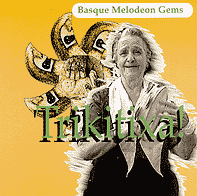 Trikitixa is the Euskal (Basque) melodeon, actually the diatonic accordion, which came from Italy in the mid-19th century via the port of Bilbao. Trikitixa also refers to a folk-dance rhythm and genre based on accordion and panderoa (tambourine). This compilation showcases Euskal free-reed music, with such traditional artists as Rufino Arrola, Auntxa and Boni, Faustino Azpiazu "Sakabi," Laja, Eleuterio Tapia, and contemporary stars including Kepa Junkera and Joseba Tapia. Joining Junkera on one side is Ibon Koteron, master of the alboka, a unique double-reed instrument made from two ox horns joined to a carved-wood core, played with a circular breathing technique to produce a piercing, bagpipe-like sound (sound sample). Tapia is accompanied on two tracks by Leturia, a panderoa whiz whose rapid-fire tambourine sounds very much like a pair of slapping staccato spoons.
Voices of Euskadi features eight popular Basque singer-songwriters and folk-revivalists whose diverse offerings reveal the region as an ancient musical crossroads. Erramun Martikorena's a cappella harmony clearly shows the Gregorian chant influence in Euskadi. Mikel Laboa and Benito Lertxundi laid the foundations of new Basque song in the 1960s with their influential combo, Ez Dok Amairu. Lertxundi's deep, gravelly voice recalls Leonard Cohen, complete with strings, synthesizer, subdued percussion and female chorus. Txomin Artola was a teen rocker, but joined the Basque song movement in 1970, most notably teaming with airy soprano Amaia Zubiria. Jean Mixel Bedaxagar is a traditional singer, here backed by a striking but unidentified female vocalist, and the gaita, an oboe-like horn of probable North African origin. Imanol offers a political ballad with distinct Sephardic colorings. Oskorri, a prominent folk-revival group, was formed by Natxo de Felipe and a group of university students in 1972, representing the Basque song movement's second generation. Oskorri's other influences include the French folk revival, jazz, and folk-rock of U.S. and English derivation (e.g., Martin Carthy, Pentangle, Steeleye Span, Alan Stivell). Altogether, these titles constitute an engaging introduction to music yet little known outside the region. - Michael Stone
Available from cdRoots
Contact the label via their web site
Sound sample: Kepa Junkera and Ibon Koteron, "Arrana-karran" from the compilation Trikitixa! Basque Melodeon Gems used by express permission.