Bask
Bask
Väsen
Gront
There's a seemingly endless supply of new music from Sweden just pouring out this month and the creative factor does not seem to be suffering from the excess supply. In fact, if anything, the competition and cooperation among these musicians is generating excellent new music at every turn.
Bask is something of a super group for Sweden's new folk scene. This trio featuring Jonas Simonson on flutes, Sten Kallman on saxes and percussion, and Hans Kennemark on fiddle have collectively been in the vanguard of this current wave of innovation, working with bands like Filarfolket, Den Fule, and Groupa and in collaborations with artists like Ale Möller and Niss Kerstin.

This is a very straightforward set of tunes, both traditional and original, presented pretty much live and acoustic. Each musician has the chance to explore not only the rhythm and melody of their instruments, but also the essential sound of them as they interact. There is a spaciousness to this recording that allows each stroke of the string, each channel of breath, each strike of hand on skin to stand out and matter.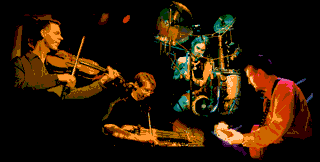 Väsen take a much more assertive approach on Gront, their second album as a quartet. While they too present a primarily acoustic sound, they are looking for a larger bang, and do not hesitate to bring in jazz, rock and whatever else suits their need. It's never overt, but these elements are often present in their newly composed folk songs. Yet the final effect is one of ancient songs reborn.

The skill of these musicians is legend in Sweden, and all of them are in demand by many other performers for outside projects, but it is the instinctive relationship they have developed over years of working together that makes them so exciting. Whether it's a folky reel for dancing like "Carrowkeel" or a rough and raw-boned monster like "The Grontman," they seem to find strange and sometimes disorienting alliances in the instruments. The production is full, with plenty of studio effects and overdubbing that rely on the musicians own ideas rather than cheap tricks and pop cliches. - CF
Available at cdRoots
Photos:
Bask: © 1999 Catherine Edvall
Vasen: ©1998, Cliff Furnald and Tony Sandin
Audio © 1999 Xource/MNW-Sweden and Northside-US