Félix Baloy and the Afro-Cuban All Stars
Baila Mi Son
Tumi (www.tumi.music.ndirect.co.uk)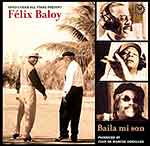 Sonero Félix Baloy Valdés has an extended musical pedigree, inspired by boyhood exposure to Beny Moré's singing at Havana's famed Ali Bar, in the barrio where Baloy grew up. His singing talents sparked a musical career beginning in his teens but prematurely foreclosed with the Cuban revolution's adverse impact on U.S. tourism. Baloy took a variety of manual jobs and did not again sing regularly until the mid-1970s, when he joined - in succession - the original Elio Revé group, Tropicuba (alongside singer Raúl Planas), Son 14, Elio Revé y Su Charangón, and Adalberto Alvarez y Su Son. Revisiting his musical roots, Baloy ultimately landed the house gig at the Ali Bar, where producer Juan de Marcos González recruited him for the original 1996 Afro Cuban All Stars recording. Project holdovers joining Baloy on this energetic big-band production include Daniel "El Gordo" Ramos, Yanko Pizaco, Alejandro Pichardo and Yaure Muñiz (trumpets), Jesús "Aguaje" Ramos and Alberto "Molote" Muñoz (trombones), Javier Zalba (flute, baritone sax), David Alfaro (piano), Ricardo Muñoz (bass), Victoriano "Filiberto" Sánchez (timbal), Alberto Virgilio Valdés (maracas), Enrique Lazaga (güiro), and González himself (tres, guitars, chorus, arrangement), along with percussion master Arístides "Tata Güines" Soto (bongo) and a host of superb session players.
This mass-instrumental blaze perfectly complements the stunning range of Baloy's voice, whose vocal stops, throaty growls, upper-range abandon, scat-like improvisations and Abakuá-language extemporizing constitute a textbook study in Cuban vocal genius. The result is a contemporary tour de force of Cuban music, from the opening title track's driving montuno to "Misericordia, ¡No Aguanto!" -closing the album with a spirited guaguancó-changüi whose Abakuá chorus invokes the Afro-Cuban sacred cult in which Baloy is an initiate. Sharing a cheeky vocal duet with Baloy on "Mami Te Gustó" is the effervescent Teresa García Caturla (of the legendary Estrellas De Areito sessions, and more recently backing Ibrahim Ferrer and the Afro Cuban All Stars). On the singer's own "El Son de Baloy" the band unleashes a relentless interlocking groove between piano, vocal chorus and the anchoring trombone, baritone sax and percussion. The inspired "Rhapsody in Blue" quotation on "Cada Vez Que Te Veo," a son composed by González, evokes the longstanding ties between Cuban music and North American jazz. - Michael Stone
Listen at Tumi: "Baila mi son"
Comment on this music or the web site.
Write a Letter to the Editor