Issa Bagayogo
Timbuktu
Six Degrees Records 657036 1062-2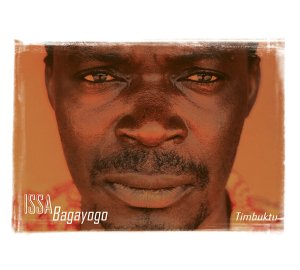 This is the second international release for Issa Bagayogo, known in his native Mali as "Techno Issa." Bagayogo plays the kamélé n'goni, a form of small guitar typically played by hunters in the region, but his moniker is well earned. In the mid-nineties, destitute from a failed attempt to make it on the Bamako music scene and abandoned by his wife, he met producer Yves Wernert. Wernert's Studio Bogolan is a recent venture funded in part by legendary Malian guitarist Ali Farka Touré. Wernert and Moussa Koné, one of Touré's guitar collaborators, convinced Bagayogo to risk fusing his kamélé n'goni with the digital sounds at state-of-the-art Studio Bogolan. Bagayogo agreed, and his next album, Sya, made waves in Mali and abroad. The same general formula can be heard on Timbuktu.
Timbuktu begins with the dry twanging pluck of the kamélé n'goni, soon swept up in the full sound of the medium-tempoed opener, Sisi: female chorus, synthesized percussion, punchy horns (also synthesized), thick bass, and sinuous, subtle guitar. Bagayogo's vocals share the dry character of the kamélé n'goni, with a slight nasal twang, patient but for the half-spoken segments. Here he breaks down into a man-in-the-street commentary shot out in rapid-fire fashion, or staccato exclamations reminiscent of Japan-based Mamadou Doumbia: "Eh! Ce! A manyi dé!" ("Hey, man! That's wrong!"). While some other recent releases have toyed with the "techno" sound on one or two numbers (like Ramata Diakité's Na), electronic effects are used creatively throughout Timbuktu; there's nothing here that really sounds like traditional kamélé n'goni music. Some numbers are obviously candidates for heavy dancehall rotation, like "Sisi" and "Dambalou." "Dambalou" uses the peculiar qualities of Bagayogo's lightly synthesized voice to lay a trancelike rhythm line, weaving with the reedy Fulani flute over a pulsing electric beat, broken by a calming acoustic guitar solo.
In fact, the most acoustic number is the title cut, "Timbuktu." A cynic would say that the name and the sound on it blatantly imitate the sound of fellow Malian Ali Farka Touré, with high bluesy guitar, loping rhythm, and Fulani flute. A fine song, it doesn't fit comfortably with the rest of the album. On the other hand, the other mostly acoustic number is more original. The wistful "Toroya" higlights Bagayogo's vocals and his kamélé n'goni, with a faint chorus, slow bass line, and subtle atmospheric effects. Our cynic would say that this hybrid sound is aimed at a strictly international market. In any case, this compelling and creative album is bound to attract fans to Bagayogo's new traditionalism and Malian music in general. - Craig Tower
Available at cdRoots