Australian Roots
Ivan Emke takes a look at the contemporary folk scene in the first of his series of reviews of new music from Australia.
The Borderers, The Cockies, Mango Jam, Colcannon, Hobson's Choice, David Hyams, and The Poachers
---
The Borderers
The Gathering
Celtic Records (www.theborderers.com.au)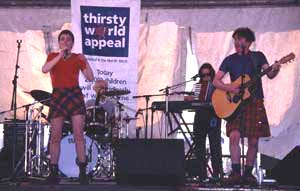 photo ©2000

Alan Graves

The Borderers is an energetic duo from Adelaide who have released eight CDs in their seven years together. They have plenty of international performing experience, including the Edinburgh Festival and Womad UK, and their sound features an interweaving of Celtic spirit with pop-influenced rhythms. On this CD, the nucleus of the band, Jim Paterson (guitars, mandolin, backing vocals) and Alex (lead vocals), are backed by the Celtic Cowboys (on fiddle, bass and drums) as well as guests on accordion, keyboards, bagpipes and whistle. Ten of the 12 tracks on the CD are original material.

The CD opens with the anthemic "The Gathering," calling people together to share in a common spirit. One of the things that strikes the listener right at the start is the power and diversity of the vocals. Favorable comparisons of Alex with pop vocalists such as Annie Lennox are not a stretch.

The Borderers take inspiration from two major genres, Celtic and country. As an example of the latter, "Bootscootin' Woman" recounts the saga of a practitioner of country line dancing. In fact, UK dance teachers have already choreographed four of the songs from this CD for line-dancing. There is also the country swagger of "Louis," about the indomitable spirit of a good audience on a good night. On the Celtic side, the Borderers do one of the finest versions of "Star of County Down" that I've heard in a great long while, with a dancing fiddle and soaring vocals, all anchored by bass and drums. The Gathering shows what the mixing of hard work and raw talent can produce.

Listen to a sample of "Bootscootin' Woman"
---
The Cockies
A Sackful of Ferrets
CDB Adventures (www.netspace.net.au/~illusion/cockies.html)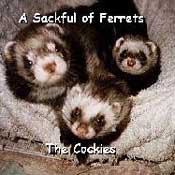 The Cockies are a quartet from the Huon Valley in Tasmania who play Celtic and American material, with a special place in their play list for Cajun music. They've built their career by playing both concert and festival venues as well as dance events. This is their fifth release (although the others have been largely focussed on dance music).
The range of the 17 tracks on the CD illustrates a diverse set of musical tastes. There is a cowboy song ("Colorado Trail"), a frailach from Kevin Burke, Cajun music from the repertoire of the likes of Zachary Richard and Michael Doucet, Irish reels from the playing of De Dannan and a couple of tunes from Newfoundland fiddle legend Emile Benoit. Their prime instruments are fiddle, mandolin, bouzouki, accordion, guitars, bass, keyboards, assorted percussion and vocals.
The Cajun material is a highlight, as the Cockies seem to have a genuine respect for this American music. They capture that spirit with the aggressive vocals and fiddle attacks "Contest Coming/ Kitchen Girl" or when they get into a Cajun groove on tracks like "Madeleine" and "La Toussaint." There are a couple of original pieces, including a set of tunes that celebrate Tasmania's maritime history and a song about a childhood spent exploring the Tasmanian bush on a pony. A Sackful of Ferrets is an apt display of the Cockies' talents and interests.
---
Colcannon
Step It Out
Self-distributed (www.colcannon.net)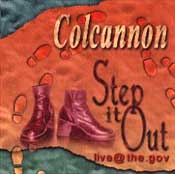 Formed in 1988, Colcannon is an award-winning five-piece band from South Australia who perform their folk music with country and traditional threads. Step It Out is the fourth CD for this band, who take their name from a popular recipe for a potato-focussed boiled dish (the name is just as popular as the recipe, seeing as it has been used by other bands in other continents). The five members include John Munro (a longtime musical partner of Eric Bogle), Kat Kraus (an incredible singer with flexibility, control and power), Peter Titchener (a UK import who brought with him some fine guitar and vocal work), Sian O'Callaghan (whose classical training is put to good use on the fiddle) and Don Holdernesse (an engineer and producer who shows a talent for both sides of the microphone). One of the most remarkable characteristics of Colcannon is their vocal depth, an attribute that any group would be proud to possess.
The CD gets off to a sprightly start with an up-tempo version of "Step It Out Mary," but Colcannon is far more than just a good-time bar band. There is the complex a cappella interweaving on the gospel number, "Shut the Door" and the Buddy Holly song, "Oh Boy." There is a country-folk treatment of Mary Chapin Carpenter's "Ideas Are Like Stars," a suitably bright version of Luka Bloom's "You Couldn't Have Come at a Better Time," a Robert Frost poem put to a quiet, thoughtful setting and Eric Bogle's ode to Australia, "Shelter." Several political themes are explored, in Munro's "The Land Belongs to Them" or the anthemic version of Lyn Clarke's "Send the Boats Away" (about New Zealand's repudiation of nuclear warships in its harbors).
There are four pieces of well-crafted original material, all from John Munro, about Australian historical events. For example, "The Gathering" is about people who were caught up in a frenzy over gold: "So who will light the town and keep the muddy streets from flowing/ who will keep the peace and tend the dying as they're going."
Step It Out was recorded live. It is deftly paced, with a mature sensitivity to audience needs. Colcannon might play a few historical songs, but then follow them with some upbeat crowd number such as "I Want to See the Bright Lights Tonight" or "Geronimo's Cadillac."
Listen to a short sample of "Shut the Door"
---
Hobson's Choice
A Curate's Egg
Hobgoblin Recording Company (www.iinet.net.au/~ajpw/hobsonschoice.html)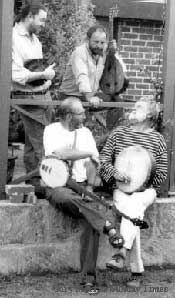 This is the debut CD from Hobson's Choice, a quartet from Perth. The band features three strong singers, with broad harmonies, as well as guitar, banjo, mandolin, bouzouki and bodhran. Their focus on Anglo-Celtic music comes honestly, since three of the members were born in England and one in Ireland. Although Hobson's Choice is only about three years old, collectively they have well over a century of experience in the folk clubs of England and Australia. This experience shows in their close harmonies and smooth instrumental delivery.
The fine opening piece, "Tall Ships," sets the tone for the CD through a strong vocal presence and good rhythm (with a rollicking mandolin break). They also offer a lively version of the traditional "Maid of Whitby" and they shine on satisfying covers of songs like Ewan McColl's "Schooldays End," Jez Lowe's "Black Diamonds," Si Kahn's "What You Do (With What You've Got)" and James Taylor's "Sugar Trade." The CD includes four originals, all written in the Anglo-Celtic style they do so well. The 14 tracks include songs of work, of drink, of everyday injustices and of the cunning of common folk.
Listen to a short sample of "Tall Ships"
---
David Hyams
Miles To Go
Dark Horse Records (www.darkhorse.net.au)
David Hyams is a composer and guitarist (and player of other assorted stringed instruments) from Fremantle, Western Australia. This solo album offers a set of instrumental snapshots, with Hyams getting some assistance from friends on wood flute, concertina, whistle, bagpipes, harp and uilleann pipes. Hyams has recently turned from playing in bands to working on film soundtracks, which makes a lot of sense given his consummate skill at eliciting moods with his layering of melodies and instrumental voices.
While there may be an overriding Celtic theme to many of the pieces, there is also some diversity in stylistic elements. There is the soft country twang of "Watching the Wheels," the jaunty, almost clown-like "Something for Nothing," the Scottish pipe march "Storming the Barricades," the mystical atmospherics of "The Journey into Ireland," and the celebration of the land of Western Australia on "Big Sky Country/ Beating Around the Bush/ Stormy Sky at Skull Springs." The pieces contain common themes of life in motion and a fascination with the countryside.
---
Mango Jam
Roaring Jelly
Mango Jam (ultra.ultra.net.au/~pete/)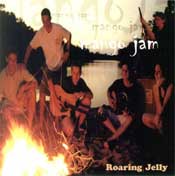 Mango Jam is a young Australian band who all received classical training, but who don't let that hinder their music. They originally met in the community bush band, Wattle 'n' Gum, whereupon the six multi-instrumentalists went on to explore their luck as buskers. Their tight playing is evidence of their skill at getting passersby to stop and listen (and part with some coin). The instrumental lineup includes fiddles, banjo, mandolin, guitars, lagerphone, bass, bodhran, flute and they all do vocals. Their fine collection of voices are put to good effect on the harmonies of the unaccompanied "Martin Said to His Man."
Mango Jam manage sets of tunes with great ease, having shaken off that ceili band tendency to have all of the instruments playing through the melody at the same time. On tracks such as "O'Keefe's Slide/Foxhunters Jig" the band members weave in and out, adding interest and excitement to the arrangement. Songs like "Lachlan Tigers" and Ewan MacColl's "Row Bullies Row" illustrate their potent mix of strong vocals and instrumental virtuosity. Other highlights are the upbeat jangle of "Leaving of Liverpool" and a brilliant rock version of John Kirkpatrick's "Jump at the Sun" mixed in with "Smash the Windows." (Pearl Jam meets Mango Jam?) In all, this is a dandy release.
Listen to an MP3 sample of "Lachlan Tigers" (1.2 Meg file download)
---
The Poachers
The Poachers
Self-distributed (www.thepoachers.com)
The Poachers are an Australian trio who take their name as a reference to the practice of borrowing material to incorporate into their own sound. As one indication of their talent, they "poach" from only the best, taking arrangement ideas from bands such as Dervish ("Lone Shanakyle") and Steeleye Span ("The Blacksmith"). This release is an EP, with seven tracks, providing just a tasting of the band's repertoire. There are four traditional pieces (including a set of tunes), a Henry Lawson poem set to music and two original numbers (which also show their English and Celtic influences).
Lead vocalist Penny Boys was awarded the "Lis Johnston Award for Vocal Excellence" at the National Folk Festival (Australia) in 2000. Her version of "The Water is Wide" on this release shows how she might have impressed the judges. The band also includes Cathy Bell (vocals, fiddle, accordion) and Andrew Heath (guitar, mandolin). The Poachers feature thoughtful and competent instrumental backing and strong, clear vocals. While not a flashy release, there is a quiet confidence here which indicates strong potential.
---