An-Chang Project
Monkey Harmonizing Songs: New Vocal Harmonies from Okinawa and the Pacific
Nektar / Tropical (www.tropical-music.com)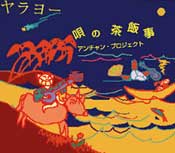 A quirk of fate and the jejune tastes of local U.S. military personnel have made Okinawa a breeding ground for the Japanese pop music industry, but the island's roots traditions resist easy incorporation. Japanese folk aficionados from Honshu, the main island, looked to Okinawa for inspiration long before the first Shokichi Kina and Champloose recordings caught Ry Cooder's wandering ear. Kyoto native Yasuba Jin set out for Okinawa in 1980 to trace the traditional songs upon which Shokichi had drawn in his own folk-rock fusion efforts. She found work in a beet sugar factory on Yonaguni, the westernmost island of the Ryukyu chain to which Okinawa belongs, and coaxed the locals to share their folk songs, among them "Harara Rude," the beguiling lullaby heard on Monkey Harmonizing Songs.
Back in Kyoto, Yasuba took up sanshin, the three-string snakeskin lute that accompanies the shima uta ("island songs") of Okinawa folk music. Moving to Tokyo, Yasuba met Okinawa folk master Shinkato Aizo and joined the circle of sanshin players that clustered around him. She founded the female vocal group Shisars in the late 1980s, but illness affected her singing ability and she was forced to withdraw before Shisars made its first and only recording.
Yoshi Uno, who had joined Shisars in the early 1990s, began jamming with the recovering Yasuba, and the addition of Shisars guitarist Natsuki Hattori sparked the An-Chang Project. The trio has become an underground wonder in Japan, but until now, An-Chang's music has traveled abroad only on promotional discs and a Rough Guide compilation.
But Monkey Harmonizing Songs (which combines their second Japanese release, Harara Rude with five songs from their first, Yarayoh-Uta no Shahanji) is no slavish revival effort. Indeed, Yoshi and Yasuba do not sing Ryukyu songs in unison as the locals do, but in harmony, inspired by the Gilbert Islands music An-Chang also performs (e.g., "We Are Happy," "Rowing Canoe Song," "Monkey Harmonizing Song"). They also add the Chinese sanxien, a precursor to the sanshin, while Natsuki's minimalist electric guitar marks out a resonant universe of its own idiosyncratic invention.
While An-Chang continues to recuperate songs learned from the old singers of Yonaguni, Okinawa and nearby islands, the group is future oriented and eclectic, exploring folk song from Taiwan ("We Are Happy: Perfect Tense"), northeast China ("You Don't Know") and the Solomon Islands ("Fish Catching Song/ Prayer for a Large Catch of Animals"). For Yasuba, An-Chang does not seek to replicate the folk music of its inspiration because the artists already have their own personal histories. What moves them in Okinawa and elsewhere is "the notion of the power that people, anybody, can sing, and that songs can spring from your everyday life." It is this attitude of boundless creativity grounded in the mundane that animates An-Chang's music, whose breezy, stripped down sonorities and (to Western ears, perhaps) unexpected aural juxtapositions deploy localized versions of an experimental impulse that energizes contemporary planetary music wherever it unfolds. - Michael Stone
You can download a sample in MP3:
http://www.tropical-music.com/mp3/68815_1.mp3