Ensemble Al-Kindi
The Whirling Dervishes of Damascus
2 CDs (Le Chant du Monde)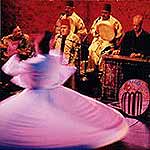 Julien Jalal Eddine Weiss, a French convert to Islam put together the Al-Kindi Ensemble, which consists of himself on qanun (board zither), Syrian ney (reed flute) player Ziyad Qadi Amin, Syrian lutist Muhammad Qadri Dalal and percussionist Adel Shams el-Din. Weiss has mastered the universe of traditional Arabic music styles as well as the associations and connotations relative to the world of Arabic religious music, particularly that of Syrian music.
On this recording of traditional Sufi religious music from the Great Ummayad Mosque in Damascus, Weiss adds choir master of the Great Mosque in Damascus, Shaykh Hamza Shakkur, and other background vocalists. The music here has variety and unity, clarity and complexity. The sacred and the secular are very close in Arabic music. The playing of the Al-Kindi Ensemble is full of nuances and refinements of phrases, timbres and textures. Some examples: the drama of the "Madih Suite" (Praises to the Prophet) is underlined by the ney improvisations. Weiss' qanun taqsim and the instrumental prelude that follow it are full of power, as is the taqsim mawzun in "Bashraf Hijaz Murrabba."
Shaykh Hamza Shakkur is a vocalist to take note of; charismatic in a quiet way, Shakkur can depict a variety of moods. Among followers of the Sufi brotherhood, this sama (sacred concert) is said to be 'hiss' (serene in expression and mood), intended to induce a state of trance or meditation in the listener. - Aaron Howard