Ailleurs
Ya Basta
ARB (www.go.to/ailleurs)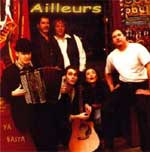 This debut release by Parisian combo Ailleurs (Elsewhere) impels me to contemplate what a real estate agent might call the highest and best use of the band's musical assets. Ya Basta (Enough Already!) reveals these to be the intimate yet energetic lead vocals of Valérie Maryane and the evocative accordion of Ollivier "Lucky" Lucas, both interpreting David Vaillant's songwriting. Ailleurs seems sometimes committed to a pop-rock approach on tracks such as "Il est bien tard." They pull it off, but sound somewhat anachronistic, un-moored in time, Blondie for the Information Age.
The title track illustrates the promise of Ailleurs, a calm, shuffling, accordion-driven tango in tension with the restrained fury of Maryane's vocal. "Les marchands de misere" retains the tango rhythm, adding electric guitar drive without effacing the accordion, a unique base for Maryane's powerful vocal denunciations. "Allons danser" is a calmer tango, featuring an arch, skipping bridge with accordion and guitar solos, while "Nous z'autres zumains," a light, lilting waltz, makes effective use of those bands assets, Maryane's vocal hitting stride with martial drum-rolls to accent the beat, accelerating to a dizzying climax. "El quatre gats" is charming with its lace-like electric guitar picking merging with accordion drone; the accordion solo fits nicely, but an electric guitar bridge seems dissonant, patched on to this quiet, moody tune. The concluding instrumental track, "Made in Ménilmontant," is especially lively and eclectic, beginning with the street sounds of Ailleurs' Paris neighborhood, leading into a Flamenco beat with electric guitar, vocal keens and staccato claps, finally resolving into a swinging accordion waltz.
Ailleurs has the musical resources, but seems torn between an attractive, quirky local flavor and recycled seventies pop rock. On Ya Basta, the former prevails most of the time. - Jim Foley