Afro-Cuban All Stars
Distinto, Diferente
World Circuit/Nonesuch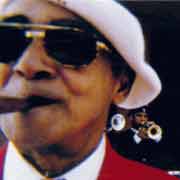 The Buena Vista Social Club may have gotten more attention, but the Afro-Cuban All Stars had the more rocking album. One of the recordings produced by Ry Cooder's serendipitous trip to Havana, the All Stars were a more multi-generational lineup. The result was an album as elegant as the BVSC, but that had more youthful fire.
Coming out from under Cooder's seal of approval, the All Stars are now more fully a product of producer Juan De Marcos González. The lineup has somewhat changed, but the album doesn't suffer from the transition. The group again brings its vibrant energy to a variety of Cuban styles, from son to jazz to danzon to rumba. The group's rhythm section is rock hard and the assembled soloists fly over them with dazzling mastery. Urging on all is the horn section, which weaves through De Marco's complex arrangements like an Indy car. While the All-Stars' second is similar to its first, it is also easily its equal -- a not unremarkable achievement. - Marty Lipp
© 2000 RootsWorld. No reproduction of any part of this page or its associated files is permitted without express written permission.