Brendan Power,
New Irish Harmonica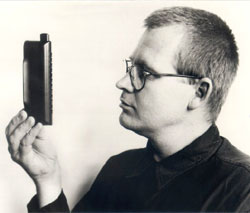 Power is making a name for himself in and out of the folk music world with his innovative playing technique. He is also at the forefront of the movement to make the harmonica itself into a world-wide instrument, creating new techniques and new modifications for the instrument itself. His New Irish Harmonica CD was a landmark, and he is just getting ready to release the follow-up to that album, Tanks Aloft. The album features Power's harmoinica in a number of settings, from solo to full band, and includes accompaniment from folks like fellow harmonicist Mick Kinsella, Andy Irvine (mandolin), Gerry O'Connor (banjo), Ian Carr (guitar), Declan Masterson (pipes) and many other folks from all over the musical spectrum.

In addition to contributing some music from the upcoming CD to the festival, he has also written an extensive article for players and listeners alike, "The Future Of The Harmonica: Which Way Forward For The World's Most Popular Instrument?"

Both tunes composed and ©2000 by Brendan Power


Power's web site

is a treasure trove of music and information about the wider world of the harmonica, as well as his own work and recordings.

All contents © 2000 the artists and RootsWorld
No reproduction or use of these files may be made without written permission