Bois Sec Ardion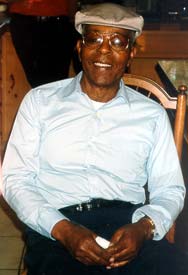 84 year old accordion man Alphonse 'Bois Sec' (Dry Wood) Ardoin was playing long before the current fad for zydeco and Cajun music bubbled up. He played dances and house parties, and developed a unique syncopation to his sound in keeping with the dances of the time.
We are pleased to be able to present this Louisiana legend during the Free reed festival, in this session recorded at his home in L'Anse de Prien Noir, near Duralde, Louisiana in 1965. Listen to these rambunctious and syncopated tunes and hear where the real roots of Louisiana's music lie.

Listen to the music
The Songs
Johnny Can't Dance
The Striped Dress
The Basile Blues
The Lake Charles Two-Step (Vocal)
Louisiana squeezeboxes at The Free Reed Festival
More Louisiana Music at RootsWorld
An Interview with Christine Balfa
Balfa Toujours web site includes some Cajun music history and info about the legendary Balfa Brothers.
A review of Bois Sec Ardoin's Allons Danser
CDs at Amazon.com

Allons Danser (Rounder)
La Musique Creole (Arhoolie)

Balfa Toujours (Rounder)
All music © 2000 Alphonse Ardoin
Music and pictures were made possible through the efforts of Dirk Powell. Thanks!