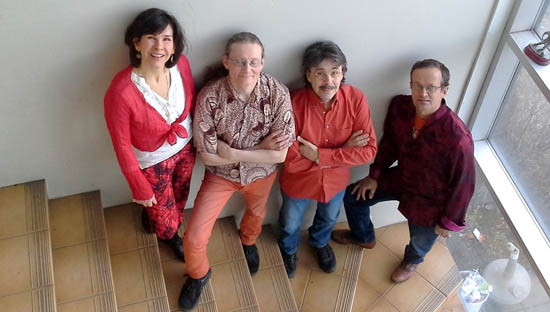 Lekkujad
Tulinbo Ruadieh
Artist release
Lekkujad are a quartet of musicians based in Helsinki that are exploring new ways to hear music from Karelia, a region that spans the Finnish-Russian border. These four musicians have diverse backgrounds that come together to create something unusual for Karelian music.
The band was formed by vocalist Kristiina Olanto, whose parents come from eastern Karelia (now inside the Russian border), and were also singers who taught her about the traditional music of the region.
The instrumental side is led by jazz and 'free-folk' musician Jorma Tapio, who made his mark early on as a member of Edward Vesala's Sound & Fury. His interest in the mission of Lekkujad is rooted in his mother's ancestry in Sortavala, Karelia.
Guitarist Pekka Nylund has played with notable folk-fusion projects including the big band Piirpauke, modern joiker Wimme Saari, the Finno-Urgic roots band Pohjantahti, and Turkish jazz percussionist Okay Temiz.
Janne Tuomi is the rock-rooted drummer in the quartet, who went on to work with dozens of Finnish jazz and rock ensembles, and a long time collaboration with Jorma Tapio.
All of this brings an energy and openness to their project together. Tulinbo Ruadieh takes deep traditional roots and plays them straight one minute, then turns them on their head the next.
Give Lekkujad a listen.