Kristi Stassinopoulou & Stathis Kalyviotis
offer a song for the new year.
Karavi karavaki (Boat, little boat)
"Boat, little boat, where are you going, wandering from shore to shore?"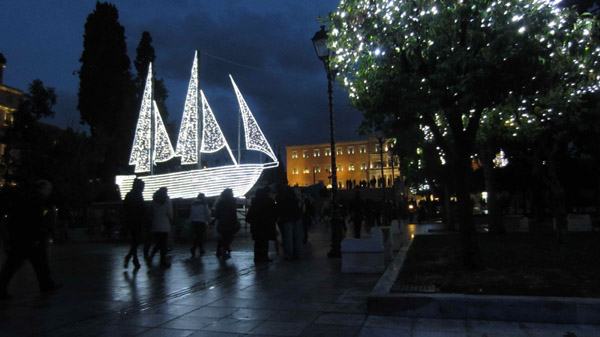 The photo taken by Stathis is showing Syntagma square in the centre of Athens, decorated for the holidays with the traditional Christmas-boat, and the Greek parliament in the background.
May we all have a peaceful 2015!
"Karavi karavaki " is a traditional song from the north-eastern Aegean and Thrace. In Greece, and mainly in the coastline and the islands, people used to decorate small hand-made wooden boats and put them in their houses like ornaments, instead of Christmas trees that were unknown here those days. The first Christmas tree in Greece appeared only in 1833 in the palace of king Otto, the first king of Greece. By the 1950s all Greek houses were decorating Christmas trees, like is done in the western world. The custom of decorating small boats started to revive in the 70s.
Visit the artists at www.greekadelia.com